LED VIDEO SCOREBOARDS & DISPLAYS
The captivating viewing experience of an OES LED Video Display adds a new level of excitement to events and draws everyone watching into the action moment by moment. Excite your crowd with cheer prompts, scores, and stats on a full screen or split the screen and integrate energetic animations, sponsor information, and exciting replays.
With brighter LEDs, unparalleled visibility from all angles and superior components, spectator engagement is enhanced when your team's success is broadcasted onto these vibrant video screens.
Let Team Fitz Graphics help you create a dynamic and versatile OES video display that will enhance game excitement, delight your fans, and generate advertising revenue.
Request a Proof or Quote!
All fields are required.
Video Scoreboards & Display Features
Indoor and outdoor displays available in the popular 16mm or in pro-quality 10mm
Limitless size, shape, color, and mounting options available
Greatest intensity LEDs with more LEDs in each digit than the competition
Choose a full LED video display or static scoreboard and video-display combination
Superior weather proofing, shatter-proof panels, and first-rate components
Efficient installation services available
OES Scoreboards Authorized Partner
Team Fitz Graphics is proud to offer products from OES Scoreboards.
OES Scoreboards has a long history of partnering with schools across North America to bring pro sports facility experience to their venues. They are renowned for exceptional customer service, talented in-house engineers, and expertise in providing high-quality, scalable, custom video displays, scoreboards, and timing solutions for Pro sports venues, colleges, K-12 schools, and community centers.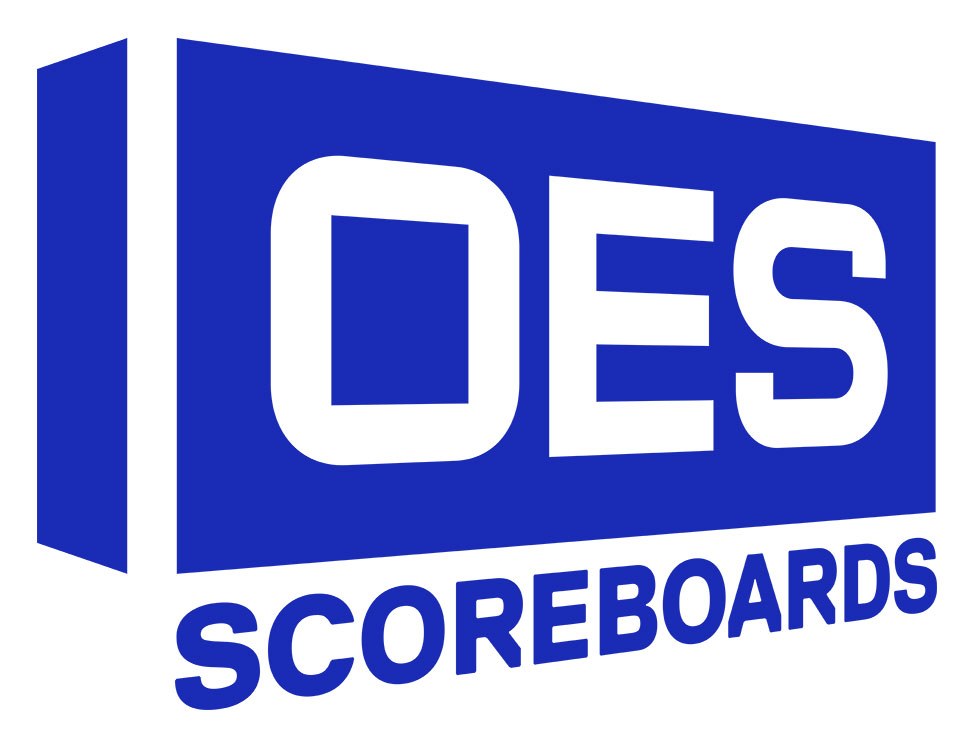 Keep Score in Style with an OES Scoreboard
Stunning Clarity and Exceptional Visibility
OES scoreboards feature the highest intensity LEDs along with more LEDs per digit than the competition. The result is crystal clear brilliance and a superior viewing experience from almost any angle and distance. OES Scoreboards is also an industry leader in white LEDs and the first to incorporate white as a standard option at no extra cost.
Commitment to Quality
With brighter LEDs, shatter-proof panels, weather-proof coating, and superior components, OES video displays are built to perform in the harshest weather conditions. This attention to durability and quality increases protects your investment and increases the lifespan of your LED video display.
Custom Design Solutions
OES scoreboards can be scaled to any size, shape, color, and mounting option. OES manufactures all their boards, electrical components, circuits, and LED digits in-house. Their ability to meet unique venue requirements, while maintaining quality, is unmatched in the scoreboard industry.

Video Display Paired with Static Scoreboard
In addition to full video displays, Team Fitz Graphics offers OES video displays that are paired with static scoreboards. This combination provides the ultimate in scoring information display and game enhancement. OES provides models that pair well with LED video displays to suit any facility size.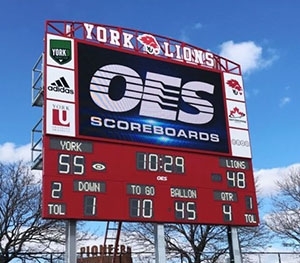 Center-Hung Video Displays
Make sure every seat is the best seat in the house with a vibrant center-hung display. Let Team Fitz Graphics help you create a vibrant and dynamic 4-sided video display that will enhance game excitement and WOW fans.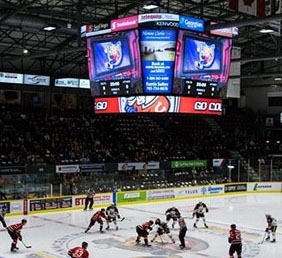 Choice of the Pros
OES Scoreboards has had a long-standing relationship with the NHL, NBA, NFL, MLB, as one of the two companies authorized to provide scoring and timing solutions. For years, OES has been a part of their facilities, special events, and on-going efforts to enhance the game for players and fans alike.
Reach out to Team Fitz Graphics today. As trained and authorized OES partners we can help bring this pro-venue experience to your facility.
SCOREBOARD PRICING
We'd love to provide you with a custom video display quote and design proof. Fill out the contact form above for more information and a custom quote!