MESH FENCE BANNERS
Mesh fence banners are a perfect way to upgrade the look of chain-link fences at stadiums and athletic fields, festivals and concerts, construction sites, businesses, or any other location for indoor or outdoor use. They are lightweight, wind-permeable, and easy to install.
Mesh fence banners aren't just for beautification. When it comes to outdoor advertising, nothing beats a mesh fence banner. Whether they are used to promote a brand, generate advertising dollars, or inform the crowd about an upcoming event, custom mesh fence banners are an excellent way to generate hype.
Team Fitz Graphics is ready to help promote your brand with an impactful banner design. Fill out the form on this page for a free custom proof and quote.
Request a Proof or Quote!
All fields are required.
Mesh Fence Banner Features
Vividly printed, full-color graphics available in custom sizes
Full-bleed printing for greater visual impact
Two mesh options to choose from depending on the level of wind at your facility
Sewn and reinforced seams with 2" webbing for maximum strength in the wind
Finished with grommets for easy installation
Add Branding or Advertising to Virtually Any Space
Our vinyl mesh banner has versatility. With custom size and print options, our custom mesh banners can add branding and advertising virtually anywhere. Here are some of the most common facilities that use mesh fence banners:
Sports Venues
Schools
Commercial Buildings
Construction Sites
Concerts and Festivals
The list goes on! We custom design and custom size every mesh banner to fit your branding objectives. With durable mesh material and a high-resolution image, you'll find eye-catching custom banners to fit virtually any space.
Benefits of Using Mesh Fence Windscreen
Mesh fence banners can create a professional feeling atmosphere or increase advertising revenue, everyone can benefit from appealing fence graphics. Advantages of high-quality fence graphics from Team Fitz Graphics include:
Visual Appeal and Branding - Instantly transform and upgrade the look of any fence and facility while also enhancing and showcasing your brand.
Advertising - Generate revenue from sponsors through the sale of advertising space.
Privacy - Windscreens help create a visual barrier along a fence line. This is useful for blocking unsightly views, reducing distractions for athletes, or creating a more intimate setting.
Wind Protection - Help create a protective barrier from the wind. Outdoor mesh can help to break up crosswinds creating a more even flow of air within your facility.
Concealment - Installing a custom mesh windscreen on your property fence is an easy way to block out an eyesore.
Ease of Installation - Installed quickly and easily, mesh fence banners use minimal effort to create an impactful visual change.
Custom Designed for Your Facility
Many mesh fence screens are sold a solid printed color. While this offers some of the benefits of a windscreen, it is really a missed opportunity to emphasize your brand. Consider a custom design that showcases your logo, exact colors, and brand. The full-time art department of professional graphic designers at Team Fitz Graphics have the expertise to design mesh windscreens for your venue that will do just that.
When considering your banner design, we typically recommend keeping it simple. Select one main message to display prominently. This will ensure your message is clearly received.
Our sales and design experts will work with you to determine the appropriate size, finish, and design layout for your fence mesh. From small advertisements to massive facility-wide projects, we have the skill set to help you achieve your advertising and branding goals.
Fence Banner Design Tips
When it comes to designing your custom mesh banner, creativity is key. Here are a few design tips:
Use high-contrast colors: Mesh fence banners allow air to flow through, which means that more muted colors may not show up as well. To ensure that your banner is still visible from a distance, use high-contrast colors. For example, you could use a black background with white text or a bright red background with white or black text.
Use large fonts: The text on your mesh fence banner should be large enough to be easily read from a distance. The general rule is to add 1" (72 pt.) of height to your letters for every 10' between the reader and the sign.
Keep the design simple: Mesh fence banners are typically viewed from a distance, so it's important to keep the design simple. Avoid using too many images or text, as this can make the banner difficult to read.
Use high-quality materials: Mesh fence banners are typically made of a durable material that can withstand the elements. However, it's still important to use high-quality materials to ensure that your banner lasts for many years.
Get professional help: If you're not sure how to design a banner, or if you want to ensure that your banner is of the highest quality, you can always get professional help. Team Fitz can help you design your ideal banner.
Why Mesh Banners from Team Fitz Graphics?
Our custom mesh signs and banners come with several unique features that make them perfect for outdoor installations.
High-Resolution Printing with UV Resistant Ink - Our digitally printed mesh banner printing process provides vivid and bold colors printed in sharp detail. UV resistant ink helps ensure colors stay bright and fading is kept to a minimum even in direct sunlight.
Durable and Long Lasting - When properly installed these mesh banners are resistant to fraying, tearing, and fading, making them a worthwhile investment.
Hold Up Against the Wind - Mesh banners feature tiny perforations throughout the surface of the material. These small perforations allow wind to pass through nearly unobstructed, making it an excellent option for windy conditions. Unlike banners with wind slits, you don't have to worry about mesh banners ripping and tearing.
Waterproof - Perfect for a typical outdoor installation and for outdoor events. This also makes them resistant to mold and mildew.
Weigh Less Than Solid Vinyl Banners - Standard vinyl banners weigh significantly more than a mesh banner. The lightweight design of a mesh banner creates less stress on facility fencing and other mounting structures.
No Limits to Size - Team Fitz mesh banners can be made to a custom size. The largest banner size will be formed with multiple pieces of material welded together. These welded seams are barely noticeable and will not impact the quality.
Custom Sizing Available with Premium Finishing Included
We can design and construct your mesh banner as large or as small as you need. Our high-end printing technology and fabrication capabilities allow us to produce high-quality mesh banners with an unmatched resolution at any size.
In addition to offering custom sizes, we put a great emphasis on how our banners are constructed. Here is a snapshot of the premium materials and fabrication processes that go into our custom mesh banners.
Mesh Banner Material
Premium fence banners are made with a material commonly called mesh. This woven material is perforated throughout allowing wind to pass through. This is an important difference between a quality mesh fence windscreen versus one that is made with a standard banner vinyl. A solid vinyl banner can act like a sail which puts unnecessary strain on fencing and ultimately will not hold up to wind and weather.
We offer a choice of two different mesh options.
30% mesh, our standard material

Allows 30% of the wind to flow through unobstructed
Most popular material and appropriate for most mesh fence banner projects
70% mesh option

Allows 70% of the wind to pass without resistance
Typically recommend this material to customers that have particularly windy venues or who have had trouble with windscreen in the past
Only tradeoff on the 70% mesh is the print clarity is not quite as sharp due to the larger perforations
Reinforced Webbing
For maximum durability, all Team Fitz Graphics' mesh banners include 2" reinforced webbing. Reinforced webbing is a cross-stitched strap of nylon that is double sewn into the edges of the windscreen. This webbing adds strength and helps to ensure the longest life in an outdoor environment.
Double-Sewn Hems
Team Fitz mesh banners use a heavy-duty hem that is stitched through the webbing. All edges and seams are folded, hemmed and double stitched. This double-sewn edging is the most effective finishing method for outdoor large format banners. Hemming helps to maintain the shape, add strength, and prevent stretching.
Grommets
Grommets offer a convenient method for securely attaching a windscreen to a fence or wall, typically using plastic zip-tie fasteners or bungee ball ties. It is important to securely attach a windscreen because loose and flapping sections will quickly be torn up by the wind and weather. For this reason, we install grommets approximately every two feet around the perimeter of the banner. This large number of tie-down points allows for a tight and professional installation.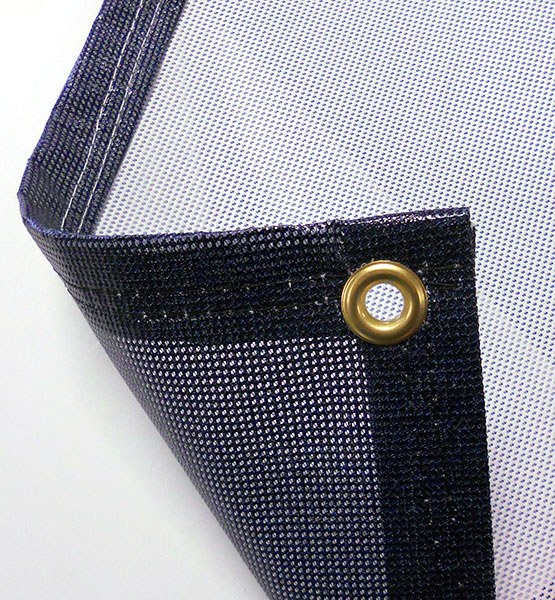 PRICING INFORMATION
Just as our windscreens have custom sizes, the pricing is custom for every job. Providing accurate measurements is the first step to receiving accurate pricing. Once we have your measurements, our team can provide a custom quote and design for your mesh fence banner project.
Fill out the form on this page today to get the conversation started.
Frequently Asked Questions (FAQ)
How Long Do Outdoor Mesh Banners Last?

The lifespan of outdoor mesh banners can vary depending on various factors such as the quality of the material, the weather conditions they are exposed to, and how well they are maintained. Generally, outdoor mesh banners can last anywhere from 1 to 5 years. With proper care and regular maintenance, such as cleaning and storing them properly when not in use, they can last longer. However, it is important to note that UV rays, strong winds, and harsh weather conditions can deteriorate the material over time, so it is recommended to periodically inspect and replace them if necessary.
Can a Banner be Double-Sided?
Yes, a banner can be double-sided. Many banner materials are designed to be printed on both sides, allowing you to display your message or design on both sides of the banner. Double-sided banners are commonly used in outdoor settings where visibility from both directions is important, such as street poles or fences. Double-sided banners can be printed with the same design on both sides or with different designs to maximize their impact and reach.
How Much Does a Standard Mesh Banner Weigh?
The weight of a standard mesh banner can vary depending on the size and material used. On average, a 3' x 6' mesh banner weighs around 1-2 pounds, while a larger 6' x 12' banner can weigh around 3-4 pounds. It's important to note that these are rough estimates, and the actual weight can vary depending on the specific design and printing options chosen.