BASEBALL & SOFTBALL SCOREBOARDS
Your fans rely on the scoreboard to track everything that's going on during a baseball or softball game. Electronic scoreboards provide a dynamic and eye-catching option to display information about pitch speed, pitch count, out counts, the inning number, and more.
At Team Fitz Graphics, we have numerous softball and baseball scoreboard options that can be customized for your field to enhance the ultimate game-day experience. Let us put together a custom quote and design mockup for your scoreboard project.
Simply fill out the form on this page to get the conversation started.
Request a Proof or Quote!
All fields are required.
ELECTRONIC SCOREBOARD FEATURES
Wide selection of baseball and softball scoreboard models available
Higher intensity LEDs and more LEDs per digit than any competition
Component quality is exceptional
Weather-proof coating and shatter-proof panels
Limitless size, color, shape, and mounting options available
Efficient and cost-effective installation service available
OES Scoreboards Authorized Partner
Team Fitz Graphics is proud to offer products from OES Scoreboards.
OES Scoreboards has a long history of partnering with schools across North America to bring pro sports facility experience to their venues. They are renowned for exceptional customer service, talented in-house engineers, and expertise in providing high-quality, scalable, custom video displays, scoreboards, and timing solutions for Pro sports venues, colleges, high schools and below, and community centers.
Score Your Baseball or Softball Game in Style
Maximum Visibility and Stunning Clarity
OES scoreboards feature the highest intensity LEDs along with more LEDs per digit than you'll find with the competition. The result is crystal clear brilliance and a superior viewing experience from almost any distance and angle. OES Scoreboards is also an industry leader in white LEDs and the first to incorporate white as a standard option at no extra cost.
Unmatched Durability
With brighter LEDs, shatter-proof panels, weather-proof coating, and unparalleled component quality, OES scoreboards are built to perform in the harshest of conditions. This attention to quality and durability increases the lifespan of your softball or baseball scoreboard and protects your investment.
Full Customization
OES softball and baseball scoreboards can be scaled to any size, shape, color, and mounting option. OES manufactures all their boards, electrical components, circuits, and LED digits in-house. They have the capacity to fully customize your softball scoreboards versus baseball scoreboards to meet each of their unique needs.

Complimentary Accessories
Team Fitz Graphics also offers a range of accessories to complement our baseball and softball scoreboards. Accessories include game clocks, pitch speed indicators, inning counter, and other timing devices to measure stats like pitch counts and out counts.
Choice of the Pros
OES Scoreboards has had a long-standing relationship with the MLB, NBA, NFL, and NHL, as one of the two companies authorized to provide scoring and timing solutions. For years, OES has been a part of their facilities, special events, and ongoing efforts to enhance the game for players and fans alike.
Reach out to Team Fitz Graphics today for more information about the long-lasting, high-performance baseball or softball scoreboards for sale. As trained and authorized OES partners, we can help bring this pro-venue experience to your facility.
Additional Benefits of Baseball & Softball Scoreboards
Advertisement
Advertisements on scoreboards are an excellent way for team sponsors and local businesses to advertise as well as generate revenue for the organization or school.
Building Morale
Having a baseball or softball scoreboard keeps players motivated to perform better on the field. They'll be more aware and, in turn, play better when they can see stats like the inning, pitch count, and total runs on the scoreboard.
Keep the Crowd Entertained
Scoreboards that feature LED video displays help to keep the crowd entertained, allowing them to cheer for their favorite team. Organizations can also use it to post exclusive information and up-to-date stats on their players.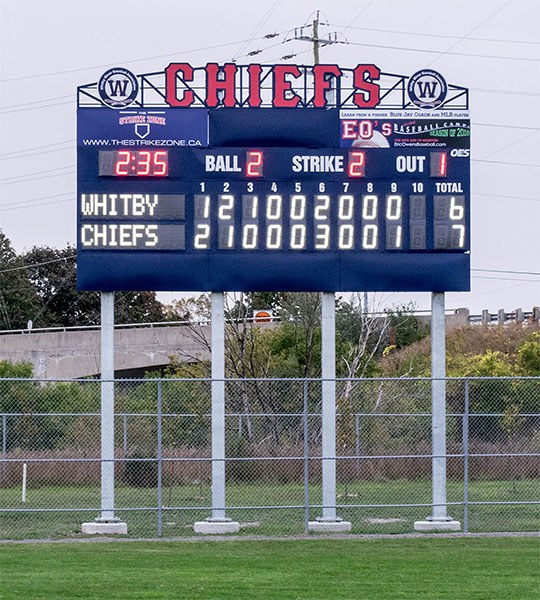 SCOREBOARD PRICING
We'd love to provide you with a custom baseball or softball scoreboard quote and design proof. Fill out the contact form above for more information and an unmatched custom quote!