CUSTOM WINDSCREEN BANNERS
Mesh Windscreen Banners offer many benefits outside simply making your outdoor facilities look great. They allow your athletes to play their best by improving ball visibility, blocking out distraction and reducing wind flowing through sports fields and courts fences.
Our digitally printed mesh fence banners are a cost-effective way to make a dramatic impact at your stadium, outfield fencing, tennis courts or other outdoor athletic facilities. Unique designs are available for all outdoor sports including: baseball, softball, football, tennis, soccer, lacrosse and field hockey.
Windscreen banners and privacy fence screens are an inexpensive solution to create secure areas while branding your fences at your facility. In terms of cost per square foot, custom fence banners are one of the most cost-effective solutions for covering large areas.
Request a Proof or Quote!
All fields are required.
Windscreen Banner Features
Vividly printed, full-color graphics available in custom sizes
Full-bleed printing for greater visual impact
Two mesh options to choose from depending on the level of wind at your location
Sewn and reinforced edges with 2" webbing for maximum strength in the wind
Finished with grommets for easy installation
Advantages Of Using Custom Fit Windscreen At Sports Facilities
Our custom windscreens do more than just improve the look of fields and courts. There are a host of reasons why custom windscreen banners are a huge upgrade at any athletic facility. They allow your athlete's to focus on what's really important in that moment, the game.
Reduces crosswind
Blocks unwanted visual distractions
Improves visibility of the ball
Provides privacy
Creates a professional-feeling atmosphere
Custom Windscreen Materials
The best windscreens are made with a material called mesh. This woven material has perforations that allow wind to flow through easily. This is the most important difference between top-quality mesh windscreen banners versus standard banners that act like a sail.
We offer a choice of two different material options when it comes to mesh fence screen. Our standard material is a 30% mesh, which allows 30% of the wind to flow through unobstructed. This is the material we recommend for most projects.
We also have a 70% mesh option which allows 70% of the wind to flow through without resistance. We recommend this material to customers that have very windy stadiums or who have had issues with windscreen previously. The only tradeoff on the 70% mesh is the print clarity is not quite as crisp due to the larger perforations.
All Team Fitz fence screens are finished with reinforced with 2" webbing, heavy-duty stitching, and grommets around the entire perimeter to ensure maximum outdoor durability.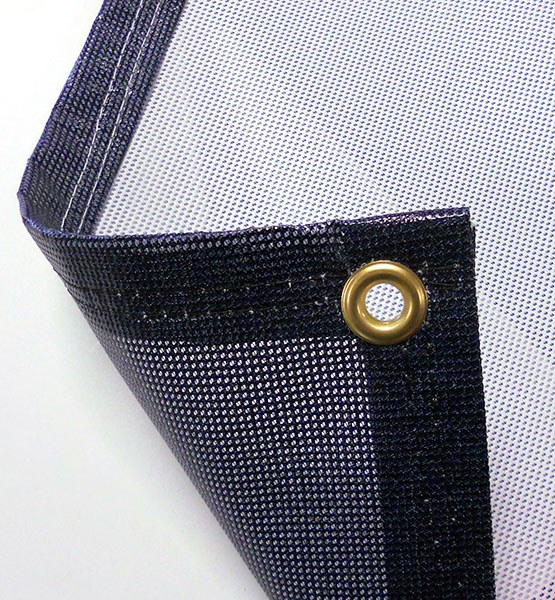 Pricing Information
Windscreen banners are completely custom. Pricing varies based on custom size and quantity. Fill out the contact form above for more information, custom digital proofs, and a quote!