ADD-A-YEAR CHAMPIONSHIP BANNERS
Celebrate the history and tradition of your school sports with Add-A-Year Banners from Team Fitz. These custom gym banners are typically divided by sport and feature one or more categories of wins such as conference, district and state appearances. An excellent way to recognize multiple victories in a way that does not take up too much wall space in your gym.
All add-a-year banner updates are FREE for the life of your banners (shipping additional). Each adhesive-backed update arrives pre-spaced, ensuring quick and easy future updates.
Our designers will thoughtfully incorporate your school logo and colors, creating an impactful design. Contact us today for more info and to receive a free design proof and quote.
Request a Proof or Quote!
All fields are required.
Add-A-Year Banner Features
Adhesive-backed updates are pre-spaced and easy to apply
Free updates until banner is full
Multiple banner material options available
Rectangular or pennant shapes available
Grommets included as standard finish (for hanging on walls)
Pole pockets available upon request (for hanging from rafters)
MATERIAL OPTIONS
Poly Fabric Banners: Our premium poly fabric is our most popular banner material. These banners are finished with sewn edges and have a nice weight, which allows them to hang much like a classic felt banner. This material will look great hanging in your gym for years to come.
Vinyl Banners: Classic gym banner material at a cost-effective price. Because vinyl banners are digitally printed, they offer the ability to display photo-realistic images and watermarked logos.
PVC and Aluminum Banners: This sign-style banner hangs flat and rigid. Can be cut to any shape. PVC is best suited for indoor applications whereas Aluminum performs great in both indoor and outdoor facilities.
Pricing Information
Add-a-Year Banners are completely custom. Pricing varies based on the material chosen, size, and quantity of banners. Fill out the contact form above for more information and a custom proof and quote!
Easy To Update!
We strive to make this as easy as possible for you. Simply call or email your Team Fitz representative and let them know what additions are needed and we will send updates out to you right away.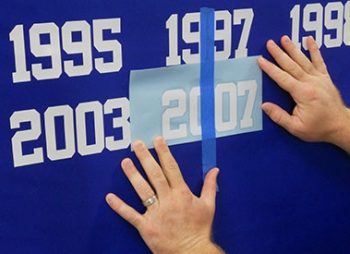 Step 1:
Align the pre-spaced year update and tape in place with masking tape.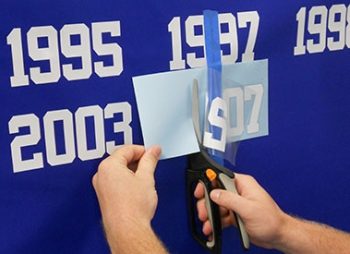 Step 2:
Peel clear transfer tape back on one side and cut off the exposed backing paper. The numbers should stay affixed to the transfer tape.
Step 3:
Use a credit card to apply the update to the surface of the banner. Finish laying the other side in the same manner.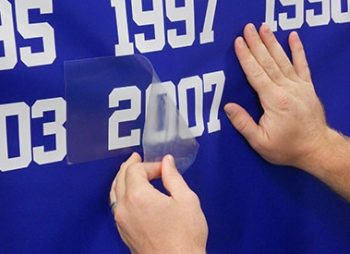 Step 4:
Slowly peel off the transfer tape making sure the numbers remain adhered to banner.