BASKETBALL SCOREBOARDS
A scoreboard is a vital part of any game. Keeping track of the fast-paced nature of basketball warrants a flexible, easy-to-read scoring system. Today's basketball scoreboards give basketball fans an easy way to follow their team's gameplay.
Whether you are looking for a simple compact scoreboard or a huge top-of-the-line scoreboard with electronic team and player names, advertisements, and decorative trusses; we can help create the best scoring system for your basketball facility.
One of our sales reps will be happy to get the conversation started. Fill out the form on this page for a free custom quote.
Request a Proof or Quote!
All fields are required.
ELECTRONIC SCOREBOARD FEATURES
Wide selection of basketball scoreboard models available
Higher intensity LEDs and more LEDs per digit than any competition
Component quality is exceptional
Durable housing with shatter-proof panels
Unlimited size, color, shape, and mounting options available
Efficient and cost-effective installation service available
OES Scoreboards Authorized Partner
Team Fitz Graphics is proud to offer products from OES Scoreboards.
OES Scoreboards has a long history of partnering with schools across North America to bring pro sports facility experience to their venues. They are renowned for exceptional customer service, talented in-house engineers, and expertise in providing high-quality, scalable, custom video displays, scoreboards, and timing solutions for Pro sports venues, colleges, K-12 schools, and community centers.
Track Basketball Game Stats in Style
Maximum Visibility and Stunning Clarity
OES scoreboards feature the highest intensity LEDs along with more LEDs per digit than you'll find with the competition. The result is crystal clear brilliance and a superior viewing experience from almost any distance and angle. OES Scoreboards is also an industry leader in white LEDs and the first to incorporate white as a standard option at no extra cost.
Unparalleled Durability
With brighter LEDs, shatter-proof panels, weather-proof coating, and unparalleled component quality, OES scoreboards are built to perform in the harshest of conditions. This attention to quality and durability increases the lifespan of your basketball scoreboard and protects your investment.
Full Customization
We offer OES basketball scoreboards for sale that can be scaled to any size, shape, color, and mounting option. OES manufactures all their boards, electrical components, circuits, and LED digits in-house. They have the capacity to fully customize your scoreboards to meet unique needs.

Basketball LED Video Displays
The captivating viewing experience of an OES LED Video Display adds a new level of excitement to events. Draw everyone watching into the action moment by moment. Excite your crowd with cheer prompts, scores, and stats on a full screen or split the screen and integrate energetic animations, sponsor information, and exciting replays.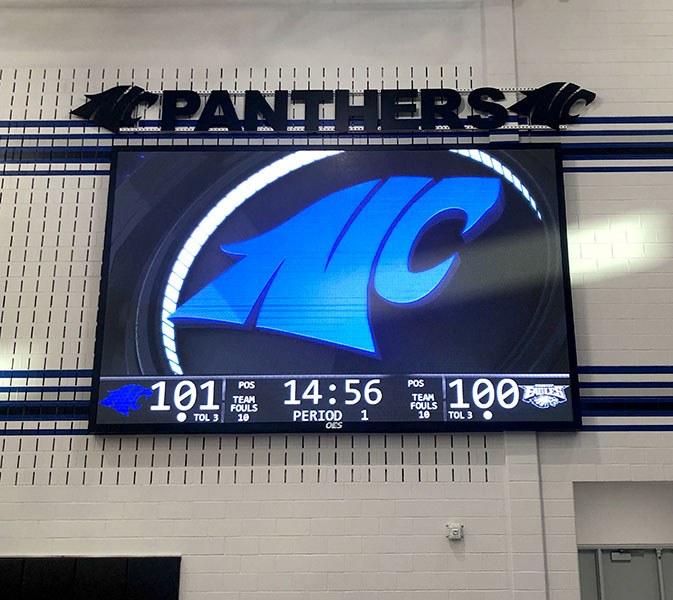 Center-Hung Video Displays
Make sure every seat is the best seat in the house with a vibrant center-hung basketball video display. Let Team Fitz Graphics help you create a dynamic 4-sided video display that will enhance the game experience and WOW fans.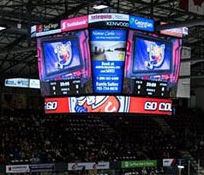 Compact LED Basketball Scoreboards
Purchasing a new scoreboard for schools and sports facilities on a low budget is still possible without funding options. A compact scoreboard is portable and relatively affordable. They prove especially popular with high school and college teams.
A serious game-time scoring solution, the compact basketball scoreboard is a durable, mountable model. These scoreboards are also commonly used on the volleyball court and for wrestling matches. While they typically have fewer features than their larger counterparts, they serve as an ample display for smaller facilities.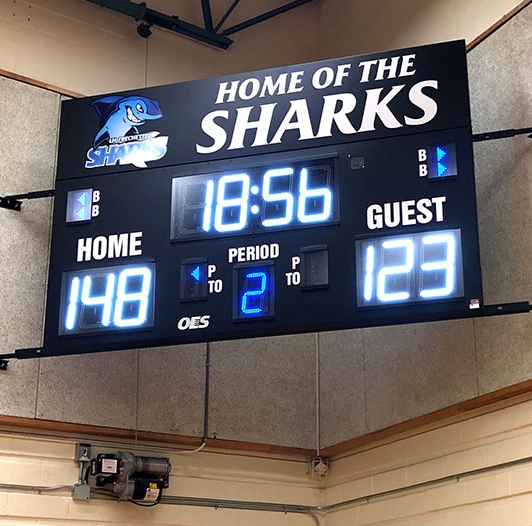 Choice of the Pros
OES Scoreboards has had a long-standing relationship with the MLB, NBA, NFL, and NHL, as one of the two companies authorized to provide scoring and timing solutions. For years, OES has been a part of their facilities, special events, and on-going efforts to enhance the game for players and fans alike.
Reach out to Team Fitz Graphics today for more information about the long-lasting, high-performance soccer scoreboards for sale. As trained and authorized OES partners we can help bring this pro-venue experience to your facility.
Scoring, Stat, and Timing Devices
Shot Clocks
A shot clock includes a timer that displays the shot time for buzzer-beater gameplay. These clocks allow fans to count down every second of each shot and keep them on the edge of their seats. They are compatible with traditional scoreboards, while some scoreboards systems have them built in.
LED Scorers Tables
Light up the sidelines and ignite the crowd with a vibrantly-lit scoring table from OES. With remarkable clarity and exceptional durability, OES scorers tables are an affordable way to display in-game info, generate revenue through advertising, and add excitement to games.
Player Stats Boards
Players' statistics displays are another valuable asset to a gymnasium or stadium. Attendees can monitor their favorite players' stats on a separate LED unit or they can be incorporated into the primary basketball scoreboard.
SCOREBOARD PRICING
We'd love to provide you with a custom scoreboard quote and design proof. Fill out the contact form above for more information and a custom quote!