BOULEVARD BANNERS
Greet visitors and fans with Team Fitz Boulevard Banners along your drive, parking lot, and stadium. These banners are quite popular on college campuses and are rapidly becoming more visible at high schools.
Our custom light-pole banners are most useful to display an oversized mascot, school name, or slogan. Schools also use these for wayfinding and helping visitors get to where they need to go. Banners are an effective way to highlight key locations such as gym entrances, visitor parking lots, or directions to the ball fields. 
Made with top-quality materials and production processes, boulevard banners from Team Fitz Graphics are made to last. Reach out to a sales rep today to receive a free design proof and quote.

Request a Proof or Quote!
All fields are required.
Boulevard Banner Features
Heavy-duty 18oz. all-weather banner material
Double-sided banners
Vibrant, full-color graphics
2.5" pole pockets added to the top and bottom along with grommets
Multiple size options available for light-pole flags and flag-pole banners
Optional mounting system available (2 options to choose from)
Custom Designed Pole Banners
Every boulevard banner that Team Fitz Graphics produces begins with a custom design. To get started, simply fill out the form on this page or give us a call. A sales rep is ready to help provide you with a no-obligation quote and design proposal.
Our professional design team will combine your team logo, exact colors, and message into an eye-catching design. Once designed you will receive a mockup proof for your approval. If it's not perfect, we will work with you on revisions until you love it.

Most Common Uses for Boulevard Banners
There are many ways that high schools and universities incorporate boulevard banners into the aesthetic of their campuses. Here are the primary ways we've seen our customers using this product:

School and Community Branding
The most popular style we sell to schools are for branding purposes. By including your school colors and logo on these eye-catching banners, you promote your brand outside the walls of your building, while also creating the cohesive feel of a campus across your facilities.
Exterior Wayfinding
A school parking lot can be chaos at certain times. This is especially true on game night, during a big event, and at the beginning of a new school year. Boulevard banners are perfect for general wayfinding. When prominently displayed, they can help visitors find their way to places such as the gym entrance, parking lot or ball field.
Interior Wayfinding
Like outdoor facilities, visitors often need help finding their way inside a school or athletic facility. Boulevard banners can be just as effective when placed indoors.
Championship Banner Recognition
It can sometimes be difficult to find space to hang championship signs near the fields or stadium. Light poles that line parking lot or main drive through campus are a perfect place to display these wins.
Display of Core Values
Nearly every school has a set of core values they strive to instill in their students. We have seen numerous customers displaying their core values, so they are visible as soon someone arrives on campus.
PremiumFlex Brackets – Stand Up to the Wind!
From a 25-mph breeze to a 70-mph storm, our pole kits can shrug off the wind and survive intact. PremiumFlex's angle change spills 87% of the wind when compared to standard bracket systems, and the spring-loaded tension system allows a banner to flex according to wind speed and direction, instead of catching the wind and tearing. 
When the wind dies down, our banners and poles return to their original position, remaining taut and readable the entire time. The kit comes complete with two cast-aluminum brackets with spring-tensioned assembly, two fiberglass poles, six steel banding straps, two pole pins, two large zip ties, and mounting instructions. Double-sided systems are also available.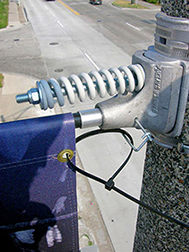 StandardFlex Brackets – Budget Friendly!
These banner brackets are designed for short-term or budget-conscious street pole banner installations. They are able to handle light to moderate breezes for banners up to 12 sq. ft.
Even on a budget, this bracket system comes complete with what you need including: 2 cast-aluminum brackets, 2 fiberglass poles, 4 steel banding straps, 2 pole pins, 2 large zip ties and mounting instructions. Double sided systems also available.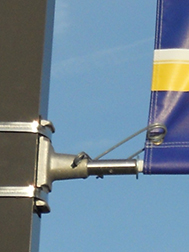 Pricing Information
Boulevard Banners are completely custom. Pricing varies based on the size and quantity of banners, and whether or not hardware is needed. Fill out the contact form above for more information and a custom proof and quote!