VELCRO-PANEL RECORD BOARDS
Velcro-Panel Record Boards are grand in size and perfect for creating an instant 'WOW' at your facility. Record panels attach using an industrial-grade Velcro mounting system, making record updates a snap. Designed for any sport, the boards includes any specific records you would like to track.
Available in two material options. Aluminum will hold up to the rigors of the outdoors, whereas PVC is best-suited for indoor use.
Request a Proof or Quote!
All fields are required.
Velcro-Panel Record Board Features
Easy-to-update record panels
Records attach using industrial-grade Velcro
Vibrantly printed graphics
Protective, anti-glare laminate with UV light blocker
Sturdy PVC construction for indoor boards
All-weather aluminum construction for outdoor boards
Mounting hardware included
Velcro-Panel Record Board Pricing
| Size | Indoor (PVC) | Outdoor (Aluminum) |
| --- | --- | --- |
| 8' x 8' | $2,245 | $2,645 |
| 10' x 10' | $2,745 | $3,245 |
| 12' x 8' | $2,645 | $3,205 |
| 15' x 10' | $3,445 | $4,295 |
Additional sizes available
Future record updates are $20 each.
Easy to Update!
We strive to make this as easy as possible for you. Simply call or e-mail your Team Fitz representative and let them know what records have been broken and we will send updates out to you right away.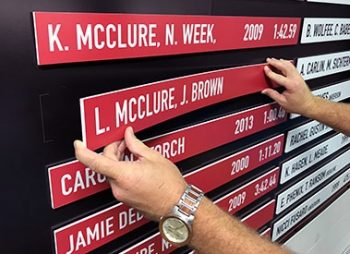 Step 1:
Carefully remove old record panel and align new panel. Use the alignment markers printed on the background of the board for easy reference.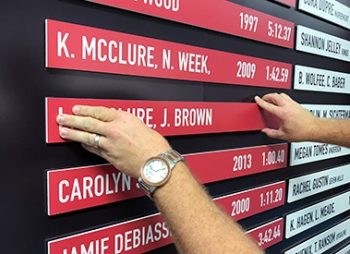 Step 2:
Press the record panel surface firmly to connect the Velcro.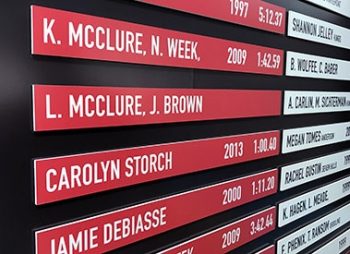 Step 3:
Check to make certain the record panel is secure and properly aligned.