STAND OUT WITH 3D FOAM PRODUCTS
Grab attention by transforming your brand into a life-sized sculpture. Using CNC foam-sculpting technology, we can turn your logo, mascot, name, or hashtag into something that will excite fans. This excitement equals more engagement as they reach for their phones, pose, and share on social media.
Each 3D Foam logo sculpture is custom designed, sculpted from high density foam, hard coated, custom painted, and hand finished. These durable foam logos are perfect for a school or athletics lobby, outside a stadium, or any other high-traffic area that fans gather. Further they are built strong and synthetically coated to stand up to the elements.
In addition to sporting events, 3D Foam is an excellent promotional tool for business. Giant foam letters and logos are a proven winner at trade shows and special events. Both large and interactive, 3D Foam signs have the power to increase awareness around your brand, event, and promotions.
3D FOAM FEATURES
Well suited for both indoor and outdoor environments
Manufactured to any size, any shape
Custom paint including matched PMS colors
Includes base and optional castors
Why Choose 3D Foam for Your Project?
3D Foam lettering and logos make a big impression on customers and fans. They increase brand awareness, encourage fan interaction, and provide an unexpected dose of fun.
Each piece is custom designed and manufactured to maximize the exposure of your brand. Chose a giant custom foam logos, to big foam letters, selfie-signs, to hash tags. Bring us your idea and we will work to make it a reality. Turnaround time from concept to completion can be done in as little as four to six weeks.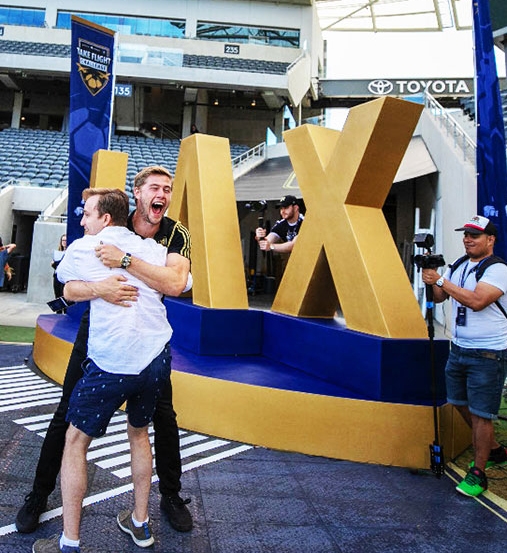 Contact Us to Learn More or Get Started
Team Fitz Graphics is a leader in the design and manufacturing of high-quality custom athletic graphics. We serve all levels of competition from the pros down to youth organizations. And customers have trusted us to do it for more than a decade and a half. Reach out today to speak with a rep about your custom foam signage project. They would be happy to help work out the details and provide you with a custom proposal.

Request a Proof or Quote!
All fields are required.