FENCE GRAPHICS
Utilizing fences for branding or adding to your facility's aesthetic is a popular move for athletics programs and schools. Fence graphics make an eye-catching option to promote your sports stadium, school, or brand. When you need your facility looking its best, a custom fence graphic from Team Fitz Graphics offers the quality you're looking for.
We can create custom-printed fence screens with graphics of your choosing. Our designers are trained to create eye-catching designs that will amplify your brand. Let us help turn your fence graphics project ideas into a reality. 
Give us a call or fill out the form on this page for a free design and quote proposal.
Request a Proof or Quote!
All fields are required.
Features of Printed Fence Graphics
Vividly printed, full-color graphics
Full-bleed printing allows for greater visual impact
Two mesh options to choose from depending on the level of wind at your facility
Hemmed and reinforced edges with 2" webbing for maximum strength
Finished with grommets for easy installation
Benefits of Fence Graphics
Fence graphics come with many benefits. From announcing special events to blocking wind on sports fields, everyone can benefit from appealing fence graphics. Advantages of high-quality fence graphics from Team Fitz Graphics include:
Enhances the look of your facility
Customizable to your branding needs
Reduces crosswinds traveling through fields and courts
Superb advertising potential
Impresses fans and builds team spirit
What to Look for in Fence Graphics
A fence banner must display graphics clearly to promote events, advertise for businesses, and accentuate a school's brand. Team Fitz Graphics' design and manufacturing crew implement valuable features into their fence graphics. When shopping for fence graphics, be sure to look for the following attributes:
Highly Durable Material: Fence screens, wraps, and banners must withstand harsh outdoor conditions. Thanks to their durability, mesh windscreen material is common for printed fence graphics. Hemmed edges and sewn-in webbing are also a must.
Transformative Capability: Fences with a custom image or branding will transform your athletic complex. Mesh wraps and fabric signs that feature World-class design give life to unappealing fences.
UV-Resistant Ink: We print your team logo and other graphics with fade-resistant ink to ensure its quality remains over time.
Affordable Pricing: Mesh fence graphics offer a fantastic bang for the buck. Huge, impactful graphics for a relatively low cost per square foot—what's not to like?
Fence Banners & Signs for Business Advertising
Most schools and athletic facilities have a chain-link fence around their property or sports field. Team sponsors can use a fence screen or banner for advertising their services on a school's chain-link fence.
Our team works diligently to develop the perfect design for your fence banner project. We can create an outstanding design that communicates your message clearly. Our experts can help your sponsors make a top-quality branding tool that pulls in business.
Custom Sizing Available with Premium Finishing
Team Fitz can design your Fence graphics at any custom size. This ensures a perfect fit on your stadium fencing. Additionally, the finest material and construction methods are used to create our custom fence graphics.
Premium fence windscreens are made with a material commonly called mesh. Mesh is a woven material that is perforated allowing wind to pass through. This is the most important difference between a high-quality windscreen versus one that is made with a standard banner vinyl. Banner material is solid and can act like a sail which puts unnecessary strain on fencing and ultimately will not hold up to wind and weather.
We offer a choice of two different mesh options. Our standard material is a 30% mesh, which allows 30% of the wind to pass through unobstructed. This popular material is what we typically recommend and makes sense for most projects.
We also have a 70% mesh option, which allows 70% of the wind to blow through without resistance. We suggest this material to customers that experience higher wind speeds at their stadium or have had trouble with windscreens in the past. The tradeoff is 70% mesh does not offer quite as sharp print clarity due to the larger perforations.
Regardless of the mesh selected, Team Fitz fence windscreens are finished with reinforced webbing, substantial hems, and grommets around the entire outside edge to achieve excellent durability outdoors.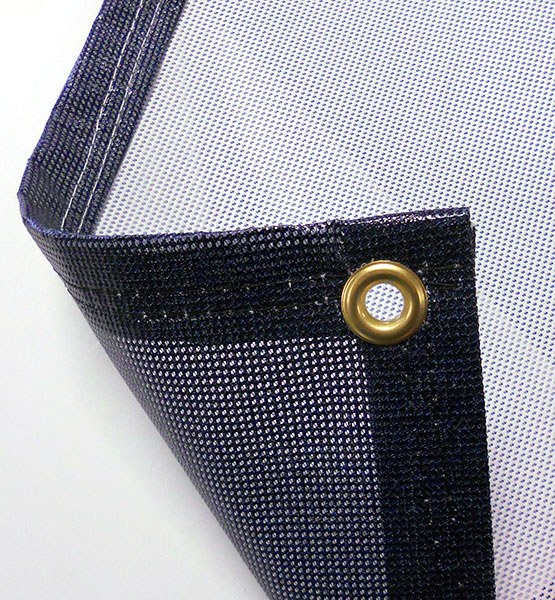 Fence Graphics Pricing
Team Fitz Graphics is your leader in fence graphics and sign creation. Whether you need a simple advertising banner for your school or a fence wrap for a professional sports stadium, our team can meet your needs. Give us a call today or fill out the form on this page to discuss your fence graphics project.