BREAKAWAY BANNERS
Nothing beats the anticipation leading up to a sporting event. Get your team and fans fired up and show off some team pride by having a grand entrance moment using custom breakaway banners. Built to last, we design these durable custom outdoor breakaway banners to create a great start to your football games, pep rallies, and more.
After submitting artwork to our professional graphic designers, your customized breakaway banner will be designed to include your team's logo, colors, and text. Quality construction, including premium nylon fabric, double-sewn hems, and industrial-grade Velcro, ensures that the customized version of your banner is ready to use game after game. With several custom sizes available, we offer a banner design for every budget.
Fill out the form on this page today for a free design and quote.
Request a Proof or Quote!
All fields are required.
Breakaway Banner Features
Premium nylon fabric
Durable and reusable
Vivid, full-color graphics
Double-sewn hems with pole pockets
Velcro seam down the middle
Poles are included
Benefits of Using Breakaway Banners
There are plenty of benefits to using breakaway banners. A few of the main advantages include:
Enhancing Event Experience
Creating Memorable Moments
Increasing Audience Engagement and Excitement
Easy Setup and Transport
Advertising and Team Visibility
Personalized Breakaway Banners Designed for Any Sport
The professional in-house designers at Team Fitz Graphics are ready to custom design affordable breakaway banners for your team. They will carefully incorporate your school branding into an eye-catching layout that will grab attention from the crowd even at a distance. These vividly printed custom breakaway banners are available for any sport, though they are most often found on the football field and basketball court.
Run Through Football Banners
One of the most exciting parts of a football team's entrance is when they bust through a Velcro football banner. This classic start to a football game is sure to exhibit team pride and get the audience pumped. Football breakaway banners are a must have for any football team that wants a big entrance at rivalry games, playoff matches, and homecoming games!
Breakaway Banners for Cheerleading
Cheer team members play an essential role in getting the players and fans hyped for the game. Breakaway banners are a great tool to help cheerleaders start the game off strong with a grand entrance moment. Additionally these full-color graphic banners are effectively used at cheer competitions and other events.
Basketball Run Through Banners
There's no reason a breakaway banner should be exclusively for outdoor use. These run-through banners are also popular with basketball teams and cheerleaders to amp up the crowd on game day. Whether they are used for high school or college games, Team Fitz Graphics can design a high quality basketball breakaway banner for your team.
Tough and Reusable Breakaway Banners
Built for durable long-lasting use, breakaway banners have a strong reinforced seam in the middle. This seam features Velcro strips that are designed to split when players break through. Similar to the Kool-Aid man busting through the wall, this makes for an awesome entrance for any team. 
These reusable breakaway banners are designed to be used over and over again. Despite using them hard during games, their high quality ensures that you won't have to purchase a new one every season!
Affordable Breakaway Banners
Our breakaway banners are not just affordable, they are an excellent value. High-quality materials and construction techniques ensure you are purchasing a product for your program that will take some abuse.
Poles Included with Purchase
Every breakaway banner sold by Team Fitz Graphics comes complete with poles. This ensures you are ready for the game as soon as your order arrives. These lightweight fiberglass poles have an excellent strength-to-weight ratio. They also telescope from 6' to 15' allowing you to easily pack them for travel.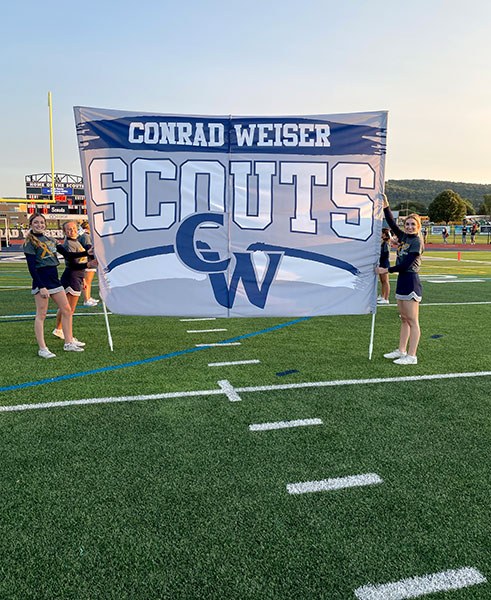 Premium Fabric Breakaway Banners
These breakaway banners are made from our premium double-sewn nylon fabric. Our dye-sublimation process allows for limitless design options and brilliant full color. This no-hassle option is wrinkle-resistant, tear-resistant, and durable.

Breakaway Banner Pricing
| Size | Price |
| --- | --- |
| 10' x 6' | $965 |
| 12' x 8' | $1,025 |
| 15' x 10' | $1,250 |
Frequently Asked Questions
What is a Breakaway Banner?
A breakaway banner is a custom banner with Velcro hook-and-loop fasteners running down the middle. This creates one connected banner that can be easily separated into to halves when someone runs through it. These banners typically include poles that are inserted into pole pockets running vertically on both sides of the banner. The poles are generally held by cheerleaders or volunteers while a team runs through. These banners are a common sight at games and pep rallies at all levels of competition.
What's The Difference Between Breakaway Banners, Breakthrough Banners, And Run Through Banners?
There is no notable difference between breakaway banners, breakthrough banners, and run-through banners. They are all the same things but are sometimes called different names by different people and companies.
What Are The Most Common Sizes For Breakaway Banners?
Common breakaway banner sizes are 10' x 6', 12' x 8', and 15' x 10' for larger breakaway banners. But like all Team Fitz products, we can create custom banners that are any size you need.
Are Custom Designs Offered For Breakaway Banners?
Yes, every breakaway banner Team Fitz produces starts with a custom design. Team logos, colors, and other brand elements are thoughtfully incorporated into an impactful layout. With the help of our professional graphic designers, we make sure your banners are game-ready and draw attention.
Are There Different Material Options For Breakaway Banners?
Yes, there are different material options for breakaway banners. Some companies offer vinyl breakaway banners, but we feel that fabric is superior. Our double-hemmed nylon fabric material is wrinkle-resistant, tear-resistant, and cost effective compared to many vinyl banners on the market. Most importantly, a nylon breakaway banner will last longer offering a better bang for the buck.

Do These Banners Fade?
You should not experience any fading with this product. The dye sublimation printing process that we use involves transferring ink directly into the fabric, rather than applying the ink to the surface. This creates vibrant and long-lasting color that resists fading compared to other printing methods. We recommend this product be stored indoors when not in use which will further protect from the negative effects of long-term weather exposure.
Are Poles Included with a Breakaway Banner Purchase?
Yes, all Team Fitz Graphics breakaway banners come with a set of poles. That way you are sure to be game ready as soon as your order arrives. In addition to a high strength, these lightweight poles telescope from 6' to 15' allowing you to easily pack them away when not in use.
How Long Does it Take to Produce a Custom Breakaway Banner?
Realistically, producing a breakaway banner takes around 2 weeks. After providing us with your colors and logo, we will put together an initial proof. That typically takes between 1 – 3 business days, and then we work with you to finalize the design once we receive feedback.
Once we have the final design and we receive the appropriate paperwork, production generally takes 7 – 10 business days to construct and ship the banner. If you are working with less time than that, please reach out for customer service. We can generally accommodate rush orders.