TENNIS COURT WINDSCREEN BANNERS
Tennis court windscreens can make a huge difference in the overall appearance of your court. A bold custom design that features your team logo and colors offers a professional feel, reinforcing your brand while setting the tone for competitors arriving at your facilities.
In addition to appearance, tennis court windscreens offer a host of benefits, including increasing ball visibility, reducing crosswind to deliver optimal airflow, providing shade, and blocking unwanted distractions.
Reach out today to find out more about how windscreen mesh can be a cost-effective way to elevate the look of your courts. One of our reps would be happy to answer questions and provide you with a free design mockup and quote.
Request a Proof or Quote!
All fields are required.
TENNIS WINDSCREEN FEATURES
Vividly printed, full-color graphics
Full-bleed printing allows for greater visual impact (not limited to printing in bands or sections)
Two mesh materials to choose from depending on the level of wind at your tennis court
Sewn and reinforced hems with webbing for maximum strength and long-lasting quality
Finished with grommets for easy installation
Block Unwanted Distractions
Tennis is a physically and mentally demanding sport. Deep levels of concentration become more challenging when athletes have to contend with distractions outside the court fencing. Tennis court windscreens can block out unwanted disturbances, allowing athletes to perform their best.
Windscreens also improve visibility for athletes. A clean visual backdrop gives players more visual acuity. The tennis ball stands out when it contrasts with a solid field of dark color such as a dark green. The fence screen improves athletes' chances on the court, by helping them keep their eyes on the ball.
Instill Professionalism
Increasing privacy is one of the biggest reasons people install windscreens at their tennis courts, but it should not be the only one. The inclusion of windscreen graphics instills an air of professionalism. This instant upgrade offers a huge bang for the buck while transforming a bland chain link fence.
Every tennis windscreen project is custom designed for your facility, giving you full control over the final look and feel of your windscreen. The graphic designers at Team Fitz Graphics will combine your team logo and colors into an attractive, professional design.
Custom Windscreen Materials
High-quality windscreens are made using mesh. This perforated woven material allows wind to pass through easily. This is the most important distinction between different materials. A high-end windscreen is able to act as an air vent versus a typical vinyl coated polyester banner that catches wind like a sail.
Team Fitz offers a choice of two high-quality mesh options. The price is the same, it is really just a matter of what works best for your courts. Our standard material is a 30% mesh, which allows 30% of the wind to flow through. This is our most popular material and appropriate for most projects.
We also offer a 70% mesh option, which allows 70% of the wind to pass through. We typically recommend this material for courts that have trouble with windscreen movement on windy days. The only tradeoff on the 70% mesh is the print clarity is not quite as sharp due to the larger perforations.
Team Fitz windscreens are finished with a reinforced 2" webbing, heavy-duty reinforced hems, and grommets along every side for maximum durability.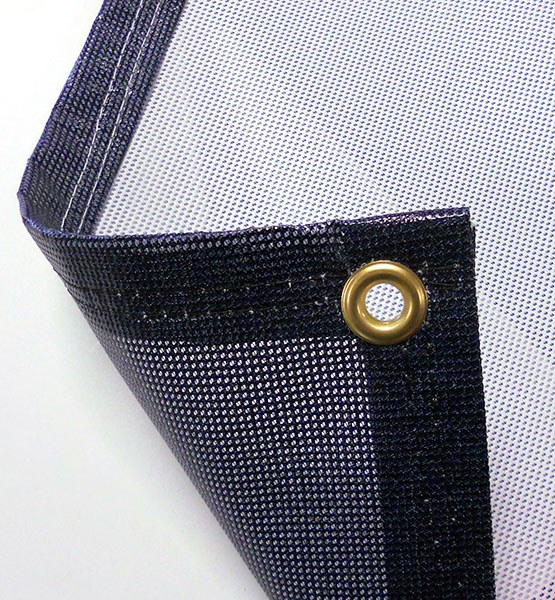 PRICING INFORMATION
Tennis windscreens are custom designed and sized for the chain link fences on which they are installed. Pricing varies based on the overall scope of the project. Fill out the form above for more information and a custom proof and quote!
Frequently Asked Questions (FAQ)
What Are Tennis Windscreens Made Of?

Premium tennis windscreens are made out of a material called mesh. It's a perforated woven material that airflow can pass through easily. This material choice is important because it helps ensure a longer banner life and protects fencing from undue stress. At Team Fitz Graphics, our windscreens are offered in a choice of two mesh options, 30% mesh or 70%.
How Do You Hang a Windscreen on a Fence?
Our windscreens come with grommets around the perimeter. These can be used to securely attach the windscreen to a fence. While windscreen installation is easy, there are a few important tips to help ensure an installation goes smoothly. Check out our handy guide for step-by-step windscreen installation instructions.
What Are the Dimensions of a Tennis Court?
The dimensions of a tennis court are 78 feet in length by 36 feet wide for playing doubles and 78 feet in length by 27 feet wide for a singles game. However, these measurements should not be used to determine the size of windscreens needed. Rather, it is important to take careful fence measurements to ensure your tennis windscreens fit perfectly. Visit our windscreen measuring guide for simple instructions and tips.
Do You Offer Custom Windscreen Designs?
Yes! All Team Fitz windscreens are custom designed to showcase a program's branding and personality. While each windscreen is unique, there are a few design elements that are common including oversized type, school or mascot logos, and use of brilliant color.
Do You Offer a Privacy Screen That is Freestanding?
Our windscreens are often used as privacy screens on tennis courts or baseball fields. The opaque backdrop allows for more effective play and increased privacy. These can be hung onto fences with ease but are not freestanding.