Custom ADA Compliance Signs
At Team Fitz Graphics, we provide custom ADA signage to customers and their clients. All our custom signs come with durable materials and adhere to ADA-compliance rules to ensure the optimal user experience.

All signs meet raised lettering, pictorial, and Braille requirements. Whether you need signs showing the room number, a unisex bathroom or staircase location, we can help.

Our experienced staff will customize your ADA compliance signs to not only meet the requirements of the law, but also to enhance the professional brand of your facility.
Request a Proof or Quote!
All fields are required.
CUSTOM ADA COMPLIANCE SIGN FEATURES
Fully compliant signage meeting raised lettering, pictorial images and Braille requirements
Custom shape options to reflect your brand
Insert options available for identifying specific individuals
Indoor and outdoor material options available
Non-reflective matte finish for increases visibility
Vibrantly printed graphics
Stay ADA Compliant
The federal government passed the Americans with Disabilities Act (ADA) in 1990, a law preventing discrimination based on disability. The ADA spurred companies and organizations to make their facilities user-friendly to people of all abilities, whether installing a ramp for individuals who use wheelchairs or a Braille sign for people who are blind.
ADA signage is about more than good business: It's a legal requirement in all permanent public spaces. Having ADA compliant signage, not only protects you legally but also provides a safe and welcoming environment. 
Our staff at Team Fitz Graphics can help you determine the amount of signage needed as well as advice and resources for proper installation.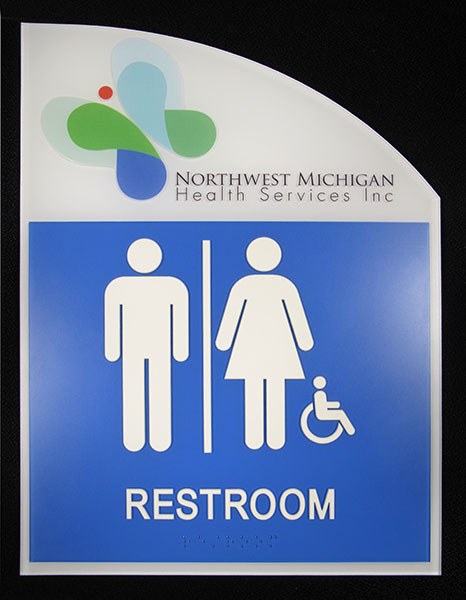 General ADA Sign Requirements
The ADA requires that public facilities and commercial establishments provide accessible signage for people with disabilities. The general ADA sign requirements include:
Signs must be located at a height of 48 to 60 inches above the finished floor. This is to ensure that people in wheelchairs or with other mobility impairments can reach the signs.
Signs must use a sans serif font with a minimum character height of 5/8 inch. Sans serif fonts are easier for people with visual impairments to read.
Signs must have raised characters and braille. This allows people who are blind or have low vision to read the signs.
Signs must have a clear floor space of at least 18 inches by 18 inches in front of them. This allows people in wheelchairs or with other mobility impairments to stand in front of the signs and read them.
Improve User Experience
Not all rooms require ADA signs, but it's a good idea to install them as they make navigating your building easier. An inclusive environment goes hand-in-hand with a positive user experience.
At Team Fitz Graphics, we can incorporate employee names, titles, or other information, so your custom signs maintain your brand's vision while creating a welcoming and informative environment. We also find subtle and attractive ways to creatively incorporate your colors and logo into the custom ADA signs.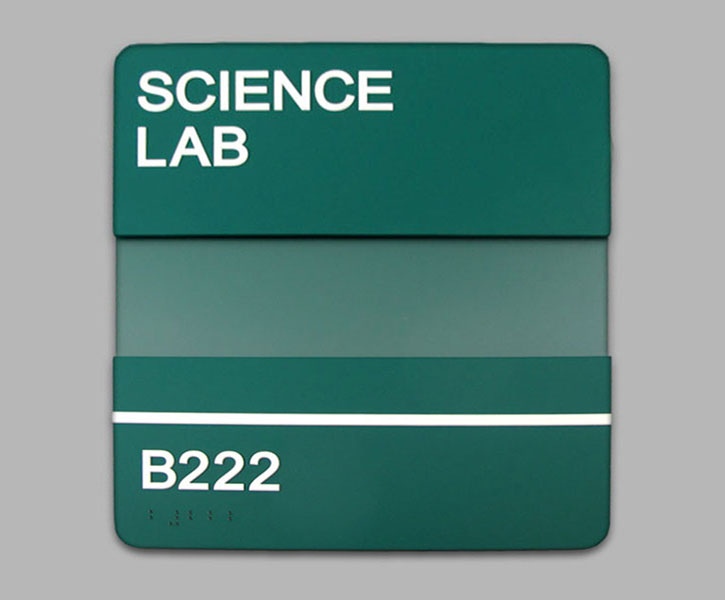 Types of Custom ADA Signs
Often referred to as Braille or tactile signs, at Team Fitz Graphics, we offer customization on all our ADA compliant signs. Our designers strive to match your unique aesthetic with client needs and legal specifications. We offer a wide range of different custom ADA signage, including signs for:
Unisex bathrooms
Men's and women's bathrooms
Insert and standard room numbers
Fire exit and stairway
Building and company
Custom signage such as a library or cafeteria signs
Our designers use a range of techniques to make your custom ADA signage one-of-a-kind. We use multiple levels of acrylics to create three-dimensional tactility. If someone reads a men's bathroom sign, they can feel the different textures in addition to the Braille lettering on the ADA sign that helps them understand where to go. People who have a hard time seeing, benefit from the full-color design and graphic integration. Our distinctive ADA plaques provide consistent branding across your building.
Pricing Information
Each ADA compliance project is unique and completely custom based on size, color, shape and quantity. Fill out the contact form above for more information and a custom proof and quote!
Get the high-quality ADA compliant signage you need from Team Fitz Graphics. We deliver the same outstanding design and customer service, whether you need a bathroom sign or room number sign. Start your order by filling out our online form today.
Contact Us Today
Frequently Asked Questions (FAQ)
How Can I Get Custom ADA Signs Made?
Sign design and production companies like Team Fitz Graphics specialize in ADA signs. We are experts at compliance and can create custom signs based on your specific needs, providing templates, design tools, and customer support to provide assistance. You can select the desired sign type, material, color, size, and design and then customize it with your preferred text and graphics. Simply contact us, discuss your requirements, and work with our professional team to design and fabricate your custom ADA signs.
What Material is ADA Signage?
ADA signage is typically made from materials that can be easily touched and read by people with visual impairments, such as high-contrast colors and raised textures. Common materials used for ADA signage include acrylic, metal, and plastic. The specific material used can depend on factors such as durability requirements and design preferences.
Where Do I Need ADA Signs?
The specific ADA signs you need will depend on various factors such as the type of facility, its size, and the specific requirements of the Americans with Disabilities Act (ADA). However, some common ADA signs that most facilities may need include:
Accessible Parking Signs: These signs indicate reserved parking spaces for people with disabilities.
International Symbol of Accessibility (ISA) Signs: These signs feature the wheelchair symbol and are used to indicate accessible entrances, restrooms, and facilities.
Room Identification Signs: These signs are required to identify accessible rooms, such as accessible restrooms, changing rooms, and conference rooms.
Braille Signs: These signs include raised lettering and Braille characters to provide information to people who are blind or have low vision.
Tactile Signs: These signs have raised letters and symbols that can be felt and read by touch for individuals with visual impairments.