LAID-VINYL RECORD BOARDS
Our Laid-Vinyl Record Board is a professional-looking record board at a cost-effective price. Using a simple update system, new adhesive-backed records are placed right over the old records. This hassle-free process keeps your board looking great season after season.
Each board is custom designed and built with quality materials, ensuring your athletic tradition and legacy is properly displayed. Boards are available in both aluminum and PVC construction. Aluminum will hold up to the abuses of the outdoors, whereas PVC is best suited for indoor display.
Fill out the form on this page for a free design mock up and quote.
Request a Proof or Quote!
All fields are required.
Laid-Vinyl Record Board Features
Easy to update using adhesive-backed record strips
Vibrantly printed graphics
Protective anti-glare laminate with UV light blocker
Sturdy PVC construction for indoor boards
All-weather aluminum construction for outdoor boards
Mounting hardware included
Laid-Vinyl Record Board Pricing
| Size | Indoor (PVC) | Outdoor (Aluminum) |
| --- | --- | --- |
| 2.5' x 4' | $645 | $770 |
| 4' x 4' | $820 | $945 |
| 4' x 6' | $950 | $1,075 |
| 5' x 5' | $1,120 | $1,245 |
| 5' x 7.5' | $1,300 | $1,425 |
Additional sizes available
Future record updates are $12 each with a max of $48 per board, per order.
Easy to Update!
We strive to make this as easy as possible for you. Simply call or e-mail your Team Fitz representative and let them know what records have been broken and we will send updates out to you right away.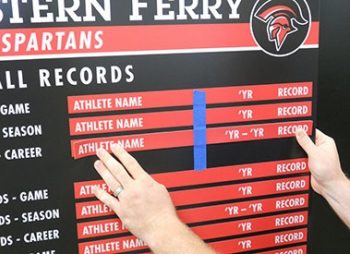 Step 1:
Clean the surface of the board with glass cleaner. Visually align and position new record over the old record and tape in the center.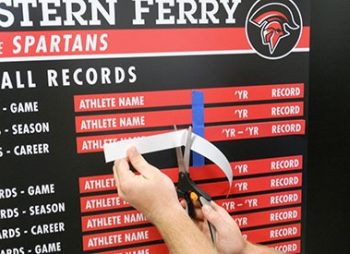 Step 2:
Separate record strip from backing paper on one side of the taped off section. Cut and remove backing paper.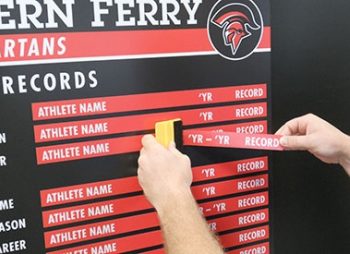 Step 3:
Using a credit card, smooth the bubble-free record strip over the old record. Repeat on the second half.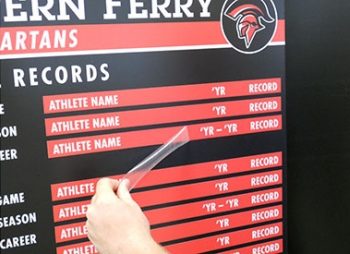 Step 4:
Slowly peel off transfer tape to reveal finished product.