OUTFIELD BATTER'S EYE
Batter's eye is the visual backdrop directly behind the pitcher. With a bright baseball or softball, this fence space should be a darker, solid color. Give your athletes every advantage possible and set your ballpark apart from your rivals with a custom baseball windscreen with batter's eye.
The graphic designers at Team Fitz Graphics can custom design a batter's eye windscreen for your stadium. Custom design typically includes 50 – 80 feet of uncluttered space in the center. Outside this space, you can include your team colors, school logo, specific text, or any other branding element you desire.

Reach out today to find out more about how a batter's eye windscreen can improve safety and performance at your ballpark. Our reps would be happy to answer questions and provide a free design and quote.

Request a Proof or Quote!
All fields are required.
Features of Batter's Eye Screen
Vividly printed, full-color graphics
Full bleed printing allows for greater visual impact
Two mesh options to choose from depending on the level of wind at your ballpark
Hemmed and reinforced edges with 2" webbing for maximum strength
Finished with grommets for easy installation
Advantages of a Batter's Eye Screen
Team Fitz Graphics understands the need for a well-designed screen to improve safety and playing performance. Our custom manufacturing process makes it possible. Let us design an effective batters' eye screen that meets your stadium's size specifications so batters can reap the following advantages:
Increased Safety
More than anything, a batter's eye is intended to increase athlete safety. Batters can focus on the ball without it blending into a multi-colored background. An uncluttered background reduces their risk of getting hit.
Better Hitting Ability
The batter's eye is in the direct line of sight of the batter's view as they wait for a pitch. Because a white ball can blend in with the crowd and other background noise as a player focuses, it can be easy to miss it. Batter's eyes mitigate the vision problems created by a busy field of vision. Because they don't have to strain their eyes to find the ball, the batter can concentrate on hitting the ball with accuracy and power.
Wind Protection
While not the primary advantage, wind protection is a big plus. Mesh batter's eye screens add wind protection to increase in-field accuracy. It does this by breaking up some cross breezes and small gusts that have the potential to affect ball travel. All players benefit from less wind.
Sharply Contrasted Batter's Backdrop Screen
At Team Fitz Graphics, functionality is our primary concern. Our designers work with you to create a screen that makes baseballs easily visible to batters. We typically recommend a sharply contrasted batter's eye in a dark color such as black, navy, or dark green.
The design doesn't need to stop there though. Many customers choose to expand their windscreen beyond the batter's eye across their entire outfield fence. This creates an opportunity to create a professional level design that incorporates your school colors, team logo, and other elements to support the brand of your school. Some coaches even elect to incorporate outfield distance markers right into the windscreen design.
Regardless of what design options you choose, Team Fitz Graphics has an experienced professional design team ready to bring it to life at your baseball stadium.
Center Field Screen Materials
Premium windscreens are made with a material commonly called mesh. Mesh is a woven material that is perforated allowing wind to pass through. This is the most important difference between a high-quality windscreen versus one that is made with a standard banner vinyl. Banner material is solid and can act like a sail which puts strain on fencing and ultimately will not hold up to wind and weather.
We offer a choice of two different mesh options. Our standard material is a 30% mesh, which allows 30% of the wind to pass through unobstructed. This popular material is what we typically recommend and makes sense for most projects.
We also have a 70% mesh option, which allows 70% of the wind to blow through without resistance. We suggest this material to customers that experience higher wind speeds at their stadium or have had trouble with windscreens in the past. The tradeoff is 70% mesh does not offer quite as sharp print clarity due to the larger perforations.
Regardless of the mesh selected, Team Fitz professionally engineered windscreens are finished with reinforced webbing, heavy-duty hems, and grommets around the entire perimeter for maximum durability in an outdoor setting.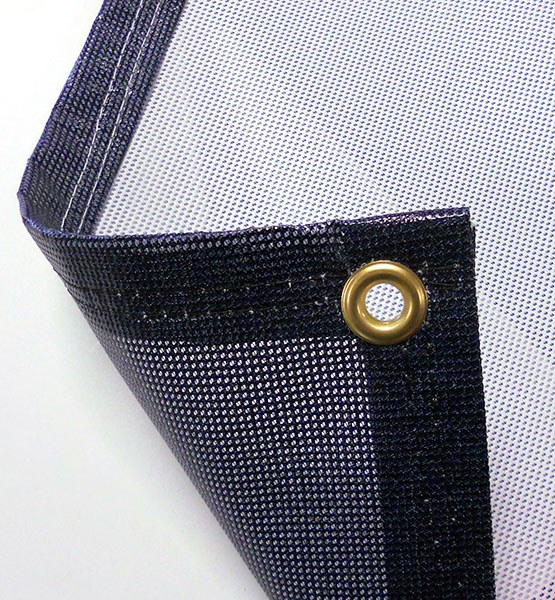 PRICING INFORMATION
Batter's eye outfield windscreens are custom designed and sized for the specific fencing on which they are installed. Pricing varies based on the overall scope of the project. Give us a call or fill out the contact form above for more information and a custom proof and quote!