TEAM ROSTER BOARDS
A team roster board is a great addition to the school gym, field house, or any other athletic facility. They make it easy for fans to see the starting line up and put names to the jersey numbers they see on the field or court. Most layouts include player name and number, but can include other information such as position or weight class.
At Team Fitz Graphics, we custom design rosters boards for any sport. Our graphic designers work with you to create a custom design. They'll incorporate your school colors and team mascot to create an eye-catching design that strengthens your brand. You'll receive a proof and have the opportunity to request revisions. Once you're completely satisfied, we will send it to production to be custom built.
For a free custom design and quote, fill out the form on this page.
Request a Proof or Quote!
All fields are required.
ROSTER BOARD FEATURES
Easy-to-update record panels attach with industrial-grade Velcro
Vibrantly printed graphics
Protective, anti-glare laminate with UV light blocker
Sturdy PVC construction for indoor boards
All-weather aluminum construction for outdoor boards
Mounting hardware included
Team Roster Boards for Any Sport
We build easy-to-read team roster boards that provide the information you want at a glance. We have experience designing boards for all sports including these most requested options:
Basketball Roster Boards
Volleyball Roster Boards
Wrestling Roster Boards
Football Roster Boards
Record Boards for Indoor or Outdoor Use
Team roster boards are not exclusively made for indoor use. We design and manufacture boards for outdoor display as well. These outdoor boards are made with a highway-sign-grade aluminum, premium outdoor-rated vinyl, and a protective laminate. This laminate filters out UV light to slow and prevent the color fade you see with some outdoor signage. Removable record strips attach using a Velcro-like fastening system that is made specifically for long-term outdoor use. All this adds up to a durable and long-lasting solution.
TEAM ROSTER BOARD PRICING
| Size | Indoor (PVC) | Outdoor (Aluminum) |
| --- | --- | --- |
| 5' x 7.5' | $1,525 | $1,750 |
| 5' x 10' | $1,750 | $1,945 |
| 8' x 8' | $2,245 | $2,645 |
| 10' x 10' | $2,745 | $3,245 |
| | | |
Additional sizes available
Future roster board updates are $20 each.
EASY TO UPDATE!
We strive to make this as easy as possible for you. Simply call or e-mail your Team Fitz representative and let them know what roster board panels you would like replaced and we will send updates out to you right away.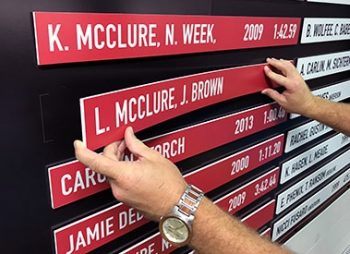 Step 1:
Carefully remove old name panel and align new panel. Use the alignment markers printed on the background of the board for easy reference.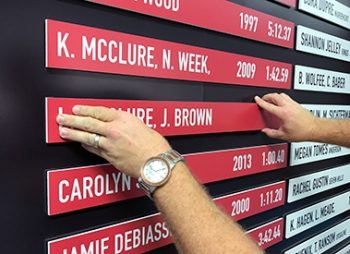 Step 2:
Press the name panel surface firmly to connect the Velcro.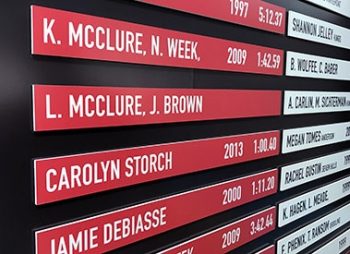 Step 3:
Check to make certain the name panel is secure and properly aligned.