Baseball Windscreens
Team Fitz baseball windscreens offer many benefits to your field. Not only do they look great, but they also allow your athletes to play their best by improving ball visibility, blocking outside distractions, and reducing crosswind. Perfect for outfield fencing, perimeter fencing, and for making a bold statement at the field entrance. 
Digitally printed windscreen mesh is a quick and cost-effective way to elevate the look of any ballpark. Our professional in-house artists will incorporate your logo, colors, and input to design a unique windscreen for your team.
Fill out the form on this page for a free design mock up and quote!
Request a Proof or Quote!
All fields are required.
BASEBALL FIELD WINDSCREEN FEATURES
Vividly printed, full-color graphics
Full-bleed printing allows for greater visual impact (not limited to printing in bands or sections)
Two mesh options to choose from depending on the level of wind at your baseball field
Sewn and reinforced edges with 2" webbing for maximum strength
Finished with grommets for easy installation
Block Out Distractions
Baseball requires Herculean levels of concentration. Hitting a fastball is hard enough, and the feat only becomes more challenging when batters have to contend with distractions beyond the outfield fence. 
Windscreen products improve visibility for batters. Baseball windscreens feature a solid-colored space in the center, usually in centerfield, called a batter's eye. The section corresponds with where the batters look when they search for the ball in the pitcher's hand. 
A clean visual backdrop gives the batter more visual acuity. The ball stands out when it contrasts with a solid field of dark color. Not only does the fence screen improve their chances at the plate, but it keeps batters safe since they can keep their eyes on the ball.
Instill Professionalism
Increasing privacy may be the leading reason for a fencing windscreen, but it shouldn't be the only one. The addition of baseball windscreen graphics lends an immediate air of professionalism to your baseball field and a price-friendly upgrade to a mundane chain link fence. 
We give you control over the final look and feel of each baseball field graphic on your fence windscreens. The graphic designers at Team Fitz Graphics will carefully combine your team colors and logo into an impactful design. The results of which will give your field the professional look of a high-end program.
Custom Windscreen Materials
Top-quality fence screens are made with a material most commonly called mesh. Mesh is a woven material that is perforated throughout allowing wind to pass through. This is the most important difference between a high-quality windscreen versus standard vinyl banner that will catch wind like a sail. 
We offer a choice of two different mesh options. The cost is the same, it is really just a matter of what works best for your ballpark. Our standard material is a 30% mesh, which allows 30% of the wind to flow through unobstructed. This is our most popular material and appropriate for most projects. 
We also have a 70% mesh option, which as the name suggests, allows 70% of the wind to pass without resistance. We typically recommend this material to customers that have particularly windy stadiums or who have had trouble with windscreen in the past. The only tradeoff on the 70% mesh is the print clarity is not quite as sharp due to the larger perforations. 
All Team Fitz windscreens are finished with reinforced with 2" webbing, heavy-duty stitching, and grommets around the entire perimeter to ensure maximum outdoor durability.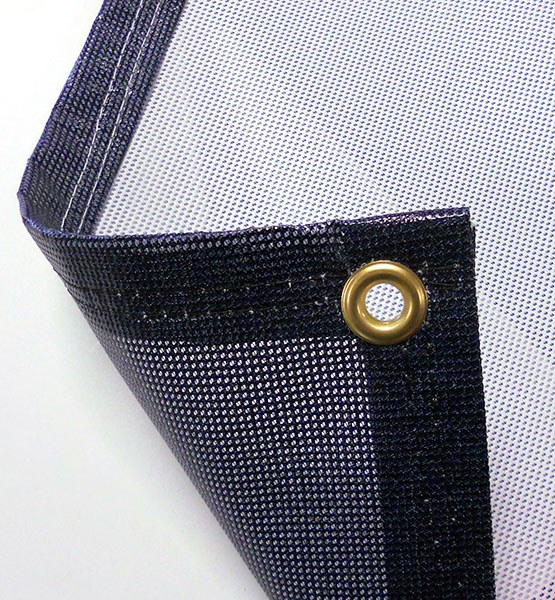 PRICING INFORMATION
Baseball windscreens are custom designed and sized for the specific fencing on which they are installed. Pricing varies based on the overall scope of the project. Give us a call or fill out the contact form above for more information and a custom proof and quote!