MOTIVATIONAL SIGNS
Getting and keeping athletes motivated is one of the more challenging parts of a coach's job. Motivational signs in the locker room and other athletic facilities can be an effective way to keep your message front and center, even when you're not in the room. Whether you're coaching students or adults, keeping a team motivated is key, and an easy way to do that is with bold and attention-catching motivational signs.
Not only can the message be compelling, but locker room motivational signage can also be a cost-effective and easy way to improve the look of your facility. Even at a relatively small size, they effectively bring life to a space along with your school logo and colors.
Ready to motivate your athletes? Fill out the form on this page today for a free custom proof and quote.

Request a Proof or Quote!
All fields are required.
Motivational Sign Features
Sturdy PVC construction
Vivid full-color printed graphics
Protective anti-glare laminate with UV blocker
Mounting hardware included
Inspirational Facilities Motivate
While motivating athletes is a broad topic, it is an important one. You often hear the saying "look good, play good"—well the same goes for training. Stepping into a facility that they have pride to be working out in boosts athlete's motivation to train. There is a reason that college facilities are constantly updating, players want to work out and prepare in great facilities.
This doesn't mean that you must renovate the entire space or start construction on a new building. Placing motivational sports signs and other wall graphics in key areas adds color and can transform a dreary boring room into a branded locker room or weight room. Motivational signage can be effectively placed in many small spaces like the ends of hallways, and above lockers, doorways, and gym exercise equipment. Look for key areas with high foot traffic or where athletes congregate such as the locker room.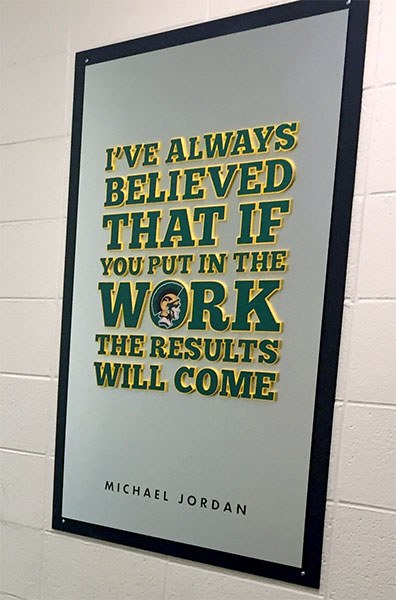 Reinforce Your Message with Motivational Signage
Many coaches assume that verbal repetition is enough to get their message across, but sometimes it isn't enough to simply tell your athletes what you expect from them.
Motivational signs featuring inspirational or team-specific messaging is a straightforward way for coaches to communicate their vision, goals, expectations, and aspirations. This sports signage should reflect the messages that are most important to both the coach and team. That way the words spoken are reinforced with visual cues each-and-every day. Ideally, these sports signs should be displayed in highly visible areas of the locker room, weight room, gym, or athletic hallways.
This cohesive approach bridges the gap between what players hear and what they see. Even better, it has the power to motivate athletes even when the coaching staff isn't in the room.
Custom Designed Motivational Signs
While some motivational sports signs seem cliché, the right quotes can really motivate athletes. They also give you a chance to reinforce the core ideas of your program. Whether you choose to include an inspirational quote, team motto, or another saying, Team Fitz has years of experience and the expertise to create an outstanding design.
Our in-house design team is ready to put together the perfect size motivational sign for your team sport. We can incorporate your team's specific logo and colors along with whatever saying, quote, or word of your choice. Fill out the form on this page for a free custom mock-up and quote.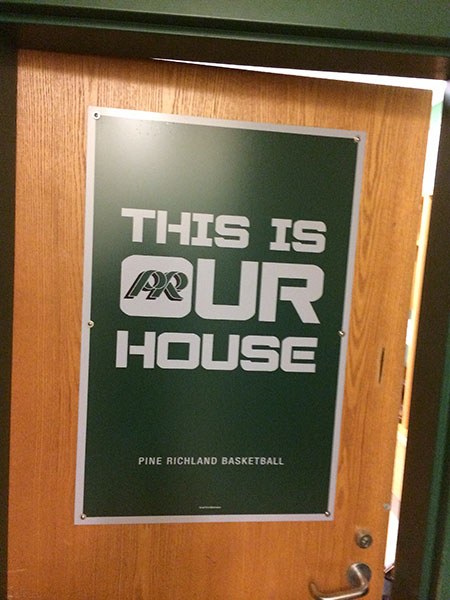 Motivational Sign Pricing
| Size | Price |
| --- | --- |
| 2' x 1' | $85 |
| 2' x 2' | $95 |
| 3' x 2' | $110 |
| 4' x 1.5' | $110 |
Additional sizes available