LARGE FORMAT WALL GRAPHICS
Whether you are looking to add instant color to a new building or rejuvenate a current facility, Team Fitz can create a custom design to meet your needs! Our larger-than-life sports graphics will make a huge impact in your school or athletic facility. 

Bring a Room to Life with Large Wall Graphics
Your team members spend a large chunk of their time in your school's facilities—training, creating strategies, or just hanging out with one another. Whether it's indoors or outdoors, creating a space that encourages and motivates them makes a difference in their performance.
Custom wall murals from our printing service make wall-graphic designs come to life on your walls and add a professional and energetic vibe to your locker room, team room, or athletic lobby.
Request a Proof or Quote!
All fields are required.
Large Format Wall Graphic Features
Graphics custom-designed to fit your space
Vibrantly printed, full-color graphics
Anti-glare matte finish ensures your graphic looks great under any lighting
Enhancement options such as die-cut lettering and dimensional logos
Variety of option to choose from including rigid PVC or aluminum sign-style graphics to SEG (silicone edge graphics)
Popular Wall Graphic Designs
Transform your wall into one where all your players want to be. Large-format printing is simple with Team Fitz Graphics, and your athletes will love taking photos next to these murals and showing their school pride. 
Here are some of the most popular wall graphic designs you may want to consider:
Oversized logos and patterns
School mantras, slogans or motivational words
Team and athlete photo collages
Championship team or athlete showcase
Wall Graphic Designs Enhance Your Brand
Custom design of wall graphics is a specialty of Team Fitz Graphics. Our team of professional in-house designers are trained to develop impactful athletic graphics. Your logo, colors, and other design elements will be thoughtfully incorporated into a design that not only supports your brand, but also enhances your athletic facility.
After a brief conversation with your sales representative, our design team will get started on a custom design that reflects your vision. Drawing on years of experience they'll draft a design concept that will be proofed out to you for revisions and approval. We're satisfied only when you love the results!
Let us help you customize your vinyl wall graphics to give your indoor or outdoor space a unique flair that gets the team talking. Our professional design service is just one of the benefits of ordering from Team Fitz Graphics.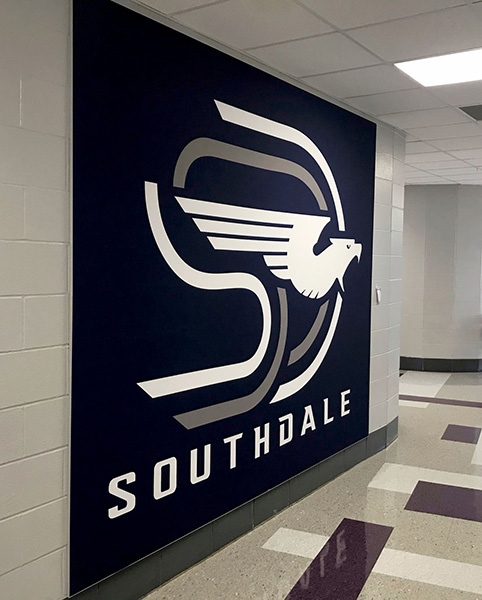 Wall Graphic Quality is Top Priority
We use modern printing technology to give our clients the caliber of work and results they expect for their team graphics. With Team Fitz Graphics printing services, your beautifully-made graphic murals will steal the show, adding color and energy to a bland space while encouraging motivation and pride.
Sports wall graphics created through large-format printing need to be of premium quality to look good enlarged. Regardless of the size of your locker room wall, we have the printers and equipment to generate beautiful, crisp wall graphics. At Team Fitz Graphics, we use the latest and highest-quality printers to generate large-format wall murals that look good on any wall.
It certainly doesn't stop with printing quality. Team Fitz Graphics offers a variety of material and construction options for your custom wall graphics. Options include graphics made with PVC, aluminum, direct-to-wall fabric, and SEG graphics. The newest and most-popular option is SEG (silicone edge graphic). These beautiful and ultra-durable fabric graphics are installed in an aluminum wall frame providing a high-end look. With this many options to consider, there is no need to trade quality for affordability.
PRICING INFORMATION
Wall Graphics are completely custom and as a result, pricing varies from project to project. Fill out the contact form above for more information and a custom proof and quote!