NATATORIUM RECORD BOARDS
Designed to thrive in the hot and humid pool environment, Team Fitz Graphics Natatorium Record Boards are the perfect showcase for your team's swimming and diving records.
These swimming record boards are built with top-quality materials and are easy to update. Durable PVC record panels are mounted to the board with industrial-strength Velcro. When a swimming record is broken, simply pull the record panel off the board and replace it with a new panel. To get updates for your board, simply give Team Fitz Graphics a call and we'll get updated record panels out to you right away.
Team Fitz Graphics designs swimming record boards for all levels of competition including high school and university level swim teams. Age-group swim club record board options are available.
Request a Proof or Quote!
All fields are required.
Natatorium Record Board Features
Easy-to-update record panels
Records attach using industrial-grade Velcro
Vibrantly printed graphics
Protective, anti-glare laminate with UV light blocker
Sturdy PVC construction
Mounting hardware included
Standout Design
Swimming record boards contain a lot of info that needs to be well organized into a design that makes it simple to understand and digest the information. But it shouldn't stop there. A high-quality swimming record board should also elevate and compliment your facility.
Team Fitz Graphics has an outstanding team of in-house designers that are specially trained to design custom record boards and other sports related graphics. Using this experience, our design team will thoughtfully incorporate team colors, school logos, and specific records into a custom design. Mockups are then proofed out for revisions and approval. Production doesn't start until the customer is in love with the design.
Excellent Legibility
It should go without saying that a team records board should fulfill the primary objective of clearly displaying records. After all, what good is a swimming record board if you can't read it. Legibility is especially important for swim record boards considering they are often hung in expansive natatoriums and outdoor spaces.
There are a few factors that affect the legibility of a record board design. Type size is perhaps the biggest, but others including thickness of the lettering, and color contrast play a large role. Team Fitz Graphics has the expertise to help ensure your swimming record board can be read from whatever distance necessary.
Durable Construction
A typical natatorium offers unique challenges when it comes to any kind of signage, including a swimming records board. The humidity, heat, chlorine, and even lighting can wreak havoc on a swimming record board if the right materials are not used.
All natatorium record boards offered by Team Fitz Graphics are designed to thrive in this type of hot and humid environment. Using proven printing processes, materials, and construction methods ensures a lasting product that will proudly display your pool records for a long time to come.
Natatorium Record Board Pricing
| Size | Price |
| --- | --- |
| 12' x 8' | $2,645 |
| 15' x 10' | $3,445 |
| 20' x 10' | $4,545 |
| 25' x 10' | $5,345 |
Additional sizes available
Future record updates are $20 each.
Easy to Update!
We strive to make this as easy as possible for you. Simply call or e-mail your Team Fitz representative and let them know what records have been broken and we will send updates out to you right away.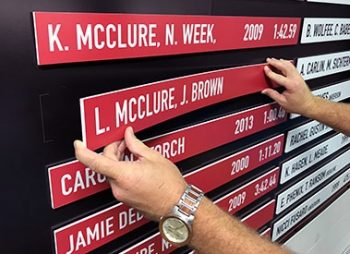 Step 1:
Carefully remove old record panel and align new panel. Use the alignment markers printed on the background of the board for easy reference.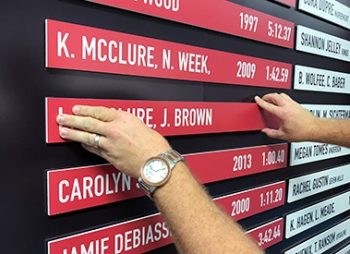 Step 2:
Press the record panel surface firmly to connect the Velcro.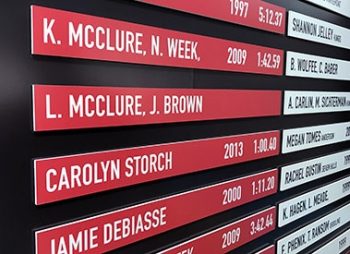 Step 3:
Check to make certain the record panel is secure and properly aligned.