WEIGHT ROOM RECORD BOARDS
Motivate your athletes to compete by displaying both current and all-time records on custom-strength weight-room record boards by Team Fitz Graphics. You can easily update these dry-erase-style record boards the moment a record is broken, adding excitement and encouraging friendly competition. That's why this style record board is so popular with strength coaches and athletic trainers. 
Team Fitz Graphics can customize these weight lifting record boards with any type of lift, exercise, or strength test to meet the needs of your team. Let us design a weight-room record board for your program that will be sure to produce results.
Fill out the form on this page for a free design mock up and quote.
Request a Proof or Quote!
All fields are required.
Weight Room Record Board Features
Dry erase record board can be updated instantly
Vibrant sub-surface graphics
High-gloss surface eliminates ghosting and is guaranteed for 10 years!
All boards are fully magnetic
Full aluminum frame with marker tray included
No special cleaners required; cleans easily with water or glass cleaner
Mounting hardware included
Custom Designed for Your Weight Room
Each athletic department, weight room, and team is unique. Don't limit yourself to a generic design template. A custom design allows the flexibility needed to get the most from your board whether it's designed for football, wrestling, basketball, track and field, or any other sport.
After a quick conversation to assess your needs, our design team will put together a unique plan. The custom design will certainly incorporate your team logo, colors, and branding, but it doesn't stop there. Each board design includes only the exercises and strength tests important to your program. Popular strength tests are bench press, power clean, and squat. Other popular exercises customers include are push-ups, chin-ups, and dips. Beyond that, exercises for fast-twitch athletes like 40-yard-dash, 3-cone dash, and shuttle run can be great for highlighting impact athletes.
Another consideration when discussing the design of the project is which athletes and teams will be displayed on the board. Is this board for both boys and girls, just one gender, or for a specific team? You will also want to decide if you are going to include just your top current records or add some historical context with all-time records.
Update Records the Moment They're Broken
While Team Fitz Graphics does offer other styles of record boards for the weight room, we find that custom dry erase boards are typically the best option. The biggest reason for that is the speed in which they can be updated.
The core reason for weight room charts is to increase motivation. What could be more motivating for an athlete than getting the chance to wipe a record clean and replace it with theirs the moment after the record is broken? This instant reward will get the attention of all those in the room encouraging friendly competition for the top spots.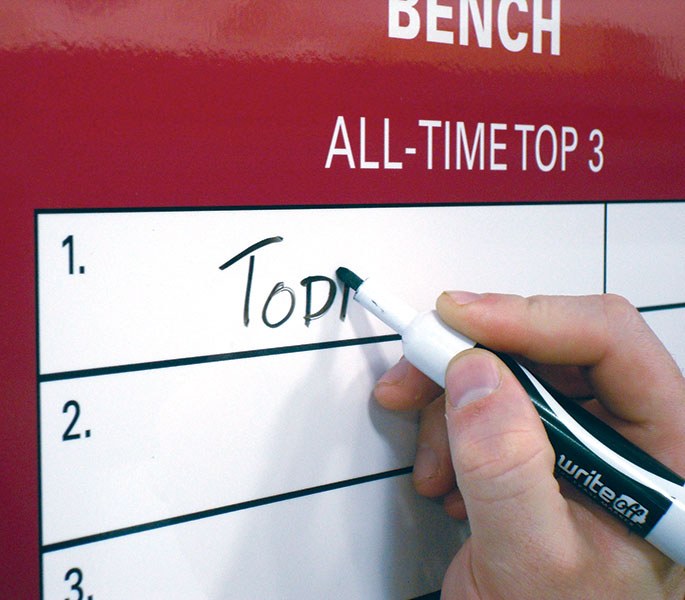 10-YEAR GUARANTEE!
All Team Fitz Graphics dry erase boards carry a 10-year warranty against ghosting, fading and defects in materials and workmanship. In addition to remaining bright white year after year, our high-gloss surface eliminates the staining and ghosting you see on other whiteboards. You won't have to worry about replacing your board because it has ghosted or faded—we guarantee it!
Weight Room Record Board Pricing
| Size | Price |
| --- | --- |
| 4' x 4' (Magnetic) | $875 |
| 6' x 4' (Magnetic) | $1,025 |
| 8' x 4' (Magnetic) | $1,150 |
| 10' x 4' (Magnetic) | $1,525 |
| 12' x 4' (Magnetic) | $1,755 |