POLE BANNERS
Widely used by towns, municipalities, and businesses, street pole banners are highly effective at branding main streets, shopping areas, and attractions within a community. These custom outdoor banners are used throughout the year to greet residents and visitors, promote events, and even express holiday cheer.

In addition to highlighting all your community has to offer, street pole banners beautify your streetscape and other public areas. Each custom banner is designed to include your specified colors, logo, and messaging to effectively support your local brand. Custom pole banners are ideal for extended outdoor use as they are weather-resistant.
Request a Proof or Quote!
All fields are required.
POLE BANNER FEATURES
Heavy-duty 18 oz. all-season vinyl banner material
Vibrant, full-color graphics printed on each double-sided banner
2.5" hemmed pole pockets sewn into the top and bottom along with grommets
Multiple standard and custom size options available
Two optional bracket systems available for mounting to walls, lamps, and light posts
PremiumFlex Brackets – Stand Up to the Wind!
From a 25-mph breeze to a 70-mph storm, these pole kits easily brush off the wind. PremiumFlex can change angles to spill 87% of the wind, compared to less than 25% for standard brackets. A spring-loaded tension system allows a banner to flex according to wind direction and speed. This reduces stress on light poles and banners resulting in decreased light-pole liability and increased banner ROI.
Street light banner brackets can be mounted to walls or any size light pole. Mounting bracket kit comes complete with 2 cast-aluminum brackets with spring-tensioned assembly, 2 fiberglass poles, 6 steel banding straps, 2 pole pins, 2 large zip ties, and installation instructions. Double-sided systems are also available.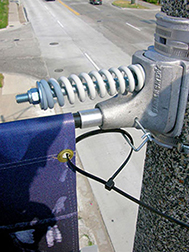 StandardFlex Brackets – Budget Friendly!
These banner brackets are designed for budget-conscious or short-term light pole banner installations. They're able to handle light to moderate breezes for banners sized up to 12 sq. ft. Brackets can be mounted to light poles and walls.
Even on a budget, these banner mounting brackets come with everything you need to mount lightpost banners including: 2 cast-aluminum brackets, 2 fiberglass poles, 4 steel banding straps, 2 pole pins, 2 large zip ties, and mounting instructions. Double-sided systems are also available.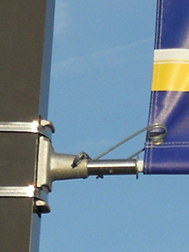 FAQ: Street Light Pole Banners
What sizes are available?
Like most Team Fitz products, our street light pole banners are custom made and can be designed at any size. The most popular sizes are:

18" x 36"
18" x 45"
24" x 48"
30" x 60"
30" x 80"
Are these light post banners single or double sided?

Light pole banners are printed on both sides. The design is usually the same on both sides, but it doesn't have to be. Our flexible design team works closely without customers to ensure they get the exact look they want.

What kind of hardware do I need to mount these banners?
Team Fitz offers two different styles of mounting hardware. The PremiumFlex Bracket System is our recommended hardware because it offers the best protection against weather and wind. These kits easily shrug off the wind, helping to ensure your banners are subjected to the least amount of stress possible. Using a spring-loaded tension system, PremiumFlex's angle changes to safely spill the majority of windforce.

The second option is our StandardFlex Bracket system. These banner brackets are designed for short-term or budget-conscious installations. They are able to withstand moderate breezes for banners up to 12 square foot. This system works great for indoor applications as well.
In most cases, we can build banners that fit existing hardware if you already have it installed at your location.
Do we need new hardware every time we replace our banners?
No. With regular maintenance, your hardware should last a long time. If you decide to replace the light pole flags in the future, you can use the same hardware.
Can you attach these banners to a wall instead of a pole?
The most common installation involves attachment to a pole, but our brackets can also be attached to a flat surface such as a wall. This is true for both outdoor and indoor applications.
How long do these banners last?
Outdoor non-permanent banners do not have a specific time guarantee. We have produced thousands of boulevard banners that have hung outside for multiple years and still look great. We have also had some that have been torn down by storms after just a few days. There are many variables that affect lifespan beyond the print and fabrication such as installation, weather, and hardware.
We do guarantee that our products will be delivered free from any manufacturing defects and assure a fantastic print quality. Once they are installed outside, longevity is largely dependent on factors outside of our control.

Pricing Information
Light Pole Banners are completely custom. Pricing varies based on the size, quantity of banners, and whether or not hardware is needed. Fill out the contact form above for more information and a custom proof and quote!