POLE BANNERS
Widely used by towns, municipalities, and businesses, pole banners are highly effective at branding main streets, shopping areas, and attractions within a community. These custom banners are used throughout the year to greet residents and visitors, promote events, and even express holiday cheer.
In addition to highlighting all your community has to offer, pole banners beautify your streetscape and other public areas. Each banner is custom designed to include your specified colors, logo, and messaging to effectively support your local brand.
Request a Proof or Quote!
All fields are required.
POLE BANNER FEATURES
Heavy-duty 18 oz. all-season banner material
Vibrant, full-color graphics printed on each double-sided banner
2.5" pole pockets sewn into the top and bottom along with grommets
Multiple standard and custom size options available
Two optional bracket systems available for mounting
PREMIUMFLEX BRACKETS – STAND UP TO THE WIND!
From a 25-mph breeze to a 70-mph storm, these pole kits easily brush off the wind. PremiumFlex can change angles to spill 87% of the wind, compared to less than 25% for standard brackets. A spring-loaded tension system allows a banner to flex according to wind direction and speed. This reduces stress on light poles and banners resulting in decreased light-pole liability and increased banner ROI.
Brackets can be mounted to walls or any size light pole. Bracket kit complete with 2 cast-aluminum brackets with spring-tensioned assembly, 2 fiberglass poles, 6 steel banding straps, 2 pole pins, 2 large zip ties, and installation instructions. Double-sided systems are also available.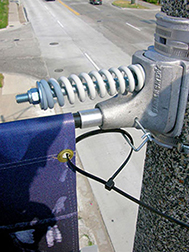 STANDARDFLEX BRACKETS – BUDGET FRIENDLY!
These banner brackets are designed for budget-conscious or short-term light pole banner installations. They're able to handle light to moderate breezes for banners sized up to 12 sq. ft. Brackets can be mounted to light poles and walls.
Even on a budget, these banner brackets come with everything you need including: 2 cast-aluminum brackets, 2 fiberglass poles, 4 steel banding straps, 2 pole pins, 2 large zip ties, and mounting instructions. Double-sided systems are also available.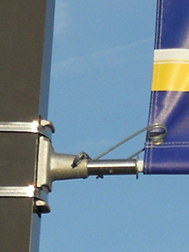 PRICING INFORMATION
Pole Banners are completely custom. Pricing varies based on the size, quantity of banners, and whether or not hardware is needed. Fill out the contact form above for more information and a custom proof and quote!