SLIDE-IN RECORD BOARDS
Our Slide-In Record Board is our most popular and best-selling record board. Not only do they look great, display your program's tradition, and honor past athletes, they're easy to update! The records simply slide in and out for replacement. That's why it's the favorite choice for coaches across the country.
Each athletic record board is custom designed by our graphic design staff to proudly recognize your athletes' accomplishments, school colors and logo. These easy change record boards are constructed with top-quality materials and will keep track of your school records for many years to come.
Fill out the form on this page for a free design mock up and quote.
Request a Proof or Quote!
All fields are required.
Slide-In Record Board Features
Easy change slide-in record strips
Vibrantly printed graphics
Protective anti-glare laminate with UV blocker
Sturdy acrylic and PVC construction
Mounting hardware included
Coach's Favorite Athletic Record Board
Slide-In Record Boards are a coach's favorite because the records simply slide in and out for replacement. The easy change records slide into channels hidden behind the acrylic face of the board. This innovative design makes future record updates convenient even with a busy coaching schedule.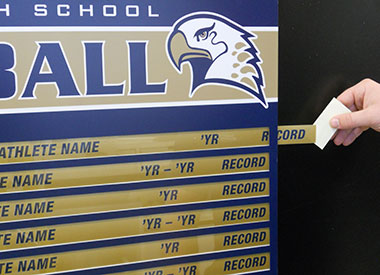 Custom Designed For Your Team
Every easy change record board that Team Fitz Graphics produces begins with a custom design. To get started, simply give us a call or fill out the form on this page. A sales rep is ready to help provide you with a no-obligation quote and design proposal.
Our professional design team will combine your sports team logo, exact colors, and the records you want to track into an eye-catching design. Once designed you will receive a mockup proof for your approval. If it's not perfect, we will work with you on revisions until you love it.
One Record Board or One for Every Sport
Whether you are looking for one record board or one for every sport, we've got you covered with the same great service. We work with coaches and athletic directors every day on projects large and small.
Perfect for Any Indoor Location
Team Fitz Slide-In Record Boards are designed for interior installations. While most of these boards support a viewing distance of 25' or less, we do offer larger sizes that can read from further away. The most common places they are hung are athletic hallways, lobbies, and focal areas like the entrance to a school gym or sports team locker room.
Take it to the Next Level!
Interested in taking your record board design to the next level? Ask your sales rep about the many embellishments that our design team can incorporate into your new record board. Popular record board upgrades include die-cut logos and 3D school mascots, custom board shapes, dimensional lettering, separate headers and other multi-piece designs.
Service After The Sale
At Team Fitz Graphics we pride ourselves on our service after the sale. We recognize that lasting relationships are built on trust and follow through. We know if we fail to deliver the same great service on small orders, we won't be considered when bigger projects come around.
That's why we have specialized designers on our team whose primary role is to design record board updates. This ensures accurate and prompt updates for your record board without hassle.
Slide-In Record Board Pricing
| Size | Price |
| --- | --- |
| 2.5' x 4' | $820 |
| 4' x 4' | $1,075 |
| 4' x 6' | $1,320 |
| 5' x 5' | $1,420 |
| 5' x 7.5' | $2,225 |
Additional sizes available
Future record updates are $12 each with a max of $48 per board, per order.
Easy to Update!
We strive to make this as easy as possible for you. Simply call or email your Team Fitz representative and let them know what records have been broken and we will send updates out to you right away.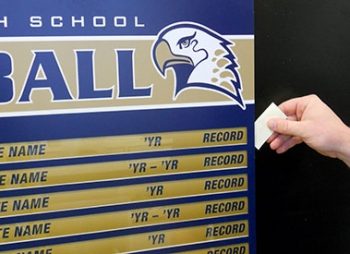 Step 1:
Insert a folded sticky note, glue side out, into the record slot on the edge of the board.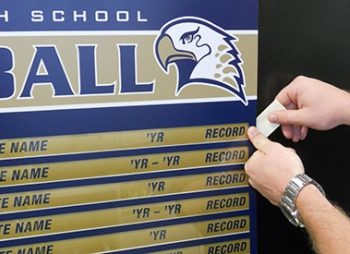 Step 2:
Press the face of the board to adhere the sticky note to the record strip.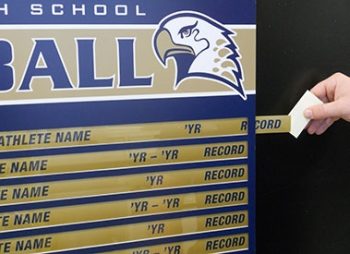 Step 3:
Pull the old record out and replace with the newly provided record strip.
Leading Supplier of School Record Boards
Team Fitz Graphics is a leading supplier of school record boards for high schools and major universities nationwide. We can build a school record board to fit any space small or grand, including indoor and outdoor applications. Contact us today to speak with a sales representative for more information and to discuss the options available for your facility.
Contact Us Today